Strength in depth for DAF at 2011 CV Show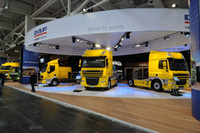 DAF Trucks will be adding to the sparkle of the 2011 Commercial Vehicle Show, which returns to the Birmingham NEC for the first time since 2008. DAF has been the consistent market leader in the UK for over 15 years and has achieved a strong market presence in all sectors. Visitors to DAF's stand (J90 and J100 in Hall 5) can expect to see a full line-up of DAF's comprehensive range of products and services including the new LF Hybrid, which has recently entered production. Additionally there will be an external exhibit of the LF Hybrid featuring factory fitted box body.
Tony Pain, DAF Trucks Marketing Director, said: "DAF Trucks will be back at its traditional stand position in Hall 5 with a comprehensive range of products on display. The return of the Commercial Vehicle Show is tremendously positive for the truck industry and DAF is looking forward to welcoming all customers, industry contacts and visitors to the stand in April".
Vehicles on display:
DAF LF 55.220 Day cab at 16 tonnes GVW
The popular DAF LF will be on display in the form of a newly available 16-tonne on a fixed axle rigid chassis. This particular model is ideally suited for refuse collection where payload, access capability and manoeuvrability are paramount. At 16-tonnes GVW the lightweight LF 55 boasts a payload capacity of over 11 tonnes making it one of the most productive vehicles in its class. The low chassis height of 890mm and three-man seating configuration makes it easy for hop-on/hop-off operations. This unit is fitted with air suspension, vertical tailpipe and three-man seating for the municipal market.
DAF CF85.460 Space Cab at 44 tonnes GCW
This example of the 2010 Fleet Truck of the Year is the quintessential tractor unit for medium distance road transport operators looking for fuel economy, efficiency and manoeuvrability. In addition the CF85 still retains excellent levels of storage space, comfort and driver appeal and this specific exhibit features the new 12-speed manual gearbox with servoshift, skylights, leather-trimmed seats, vehicle stability control, Alcoa Dura-Bright wheels, axle load monitoring and an air-suspended Space Cab.
DAF XF105.460 EEV Super Space Cab at 26 tonnes GVW
DAF's range-topping XF105 model is exhibited in the rich blue colours of Stardes transport – the production and logistics company for the entertainment and touring industry. Designed for continental operation, this unit is specified at the EEV (Enhanced Environmentally Friendly Vehicle) emission level; increasingly important in various Low Emission Zones around Europe. This unit has a 9-tonne front axle, twin long distance fuel tanks with a 1050-litre capacity, a 100-litre AdBlue tank and ZF intarder integrated into the 16-speed manual gearbox.
FA LF45.160 EEV Hybrid at 12 tonnes GVW
This new addition to the DAF product range has recently gone into production in Leyland, Lancs. and is capable of reducing fuel consumption by between 10 to 20% depending on its application. It uses a parallel diesel/electric hybrid driveline with a 160 hp 4.5-litre PACCAR FR engine linked to a 6-speed automated gearbox. The electric motor is installed between clutch and gearbox and provides additional drive during acceleration. The battery also acts as a generator by storing the energy released during braking in lithium–ion batteries for re-use when accelerating.
12.9 litre PACCAR MX engine display
The 12.9-litre engine is similar to that used in the CF85 and XF105 range but this particular unit is specified with a combination of SCR (Selective Catalytic Reduction) and EGR (Exhaust Gas Recirculation) technology as offered in the latest Kenworth and Peterbilt trucks in North America which now require compliance with EPA10 emissions legislation.
Services on the stand
Up to the minute quotations can be generated on the stand including TOPEC calculations, and Multisupport repair and maintenance programmes. PACCAR Financial will be present throughout, offering leasing and contract advice to all interested parties. PACCAR Parts will have their own stand – 5J100 adjacent to the DAF stand – with a full range of TRP offers as well as promoting the MAX card discount programme.
DAF Trucks N.V. — a subsidiary of the American company PACCAR Inc, one of the world's largest producers of heavy-duty trucks — is a leading producer of light, medium and heavy-duty trucks with a market share in Europe*) of around 16% in the over 15 tonnes category. DAF manufactures a complete range of tractors and rigids, offering the right vehicle for every transport application. DAF is also a leader when it comes to providing other, product-related services: MultiSupport Repair and Maintenance Contracts, financial services from PACCAR Financial and a first-class parts service. In addition, DAF develops and produces components such as axles and engines for, in particular, bus and coach manufacturers all over the world. DAF Trucks N.V. has factories in Eindhoven in the Netherlands and Westerlo in Belgium, and over 1000 dealers and service points in Europe.