Visit Italy as it celebrates 150 years of 'La Dolce Vita'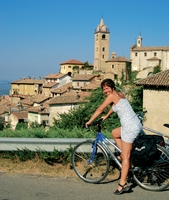 150 years ago today (17 March 2011) Italy became a unified country and Turin was declared the country's first capital.
With a host of cultural events taking place across Italy over the coming months to mark the occasion and 24 active holidays to choose from, 2011 is a great year to join one of Headwater's walking and cycling holidays.
EMILIA ROMAGNA: Birthplace of the Tricolore flag - Despite being the region which gave Italy its National flag, it is better known for being the country's gastronomic capital and home to parmesan cheese, balsamic vinegar and Parma ham. Headwater's new 8-night independent Cycling in Emilia Romagna holiday takes advantage of the pancake-flat country lanes to enjoy the area's ancient towns, hidden hamlets, fishing ports, golden beaches and superb cuisine. Prices from £1198pp including flights and transfers, half board accommodation, luggage transfer by Headwater staff, bicycles, Headwater route notes and local map kit.
LIGURIA: Right foot forward as you explore 'The Boot' - Offering arguably the best hiking in Europe, the exceptional new Cinque Terre & Ligurian Riviera 10-night independent walking holiday is the perfect introduction to Liguria's stunning coast. From exclusive Portofino to the picturesque mediaeval harbour of Portovenere, this hotel-to-hotel trip spends time hiking in the stepped cliffs of the stunning UNESCO world heritage site of Cinque Terre. The walks on this new trip are designed so that they each end in quaint colourful harbours while the regular ferries, water taxis and coastal trains allow flexibility on most days. Prices from £1239pp land only / £1394pp including flights, accommodation, continental breakfast and all evening meals, map kit, route notes, luggage transfer between hotels and a local representative.
SICILY: In lava with the feisty Italian temperament – Italy is home to some of the most famous active volcanoes on Earth, with Mount Etna being Europe's largest. The 9-night Islands of Sicily independent walking holiday follows a volcanic themed itinerary, spending five days island-hopping between the beautiful Aeolian Islands (a string of seven UNESCO-designated volcanic islets), staying on Lipari and Stromboli, known as the 'Lighthouse of the Mediterranean' for its constant eruptions, before visiting Mount Etna. Highlights include the chance to enjoy a once in a lifetime nocturnal ascent to Stromboli's summit with a volcanologist to witness the lava flow up close. Prices from £1264pp including flights and transfers, accommodation, continental breakfast and four evening meals, route notes and local map kit.
TUSCANY: Follow in the footsteps of the Father of the Fatherland - Usurping Turin as the country's capital between 1865 and 1871 before Rome took its title, Florence was also where the first king of United Italy - former King of Sardinia Victor Emmanuel II, known as 'Padre della Patria' (Father of the Fatherland) - spent much of his youth. Headwater's guided Highlights of Tuscany walking and sightseeing tour journeys through historic art cities whilst also enjoying coastal walks and hillside rambles in the Apennine mountains. Along with the cities of Florence and Siena, the 10-night tour will get people's mouth's watering with Tuscan cuisine and world-famous wines. Prices start from £1378pp including flights and transfers, accommodation, continental breakfast and three evening meals, a regional information booklet and local map kit.
For more information and to book online at: headwater.com