Oxfam and M&S team up to make unwanted clothes go further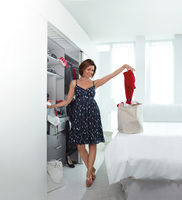 A fifth of Brits admit that they are more likely to keep an item of clothing they know they won't wear than donate it to a charity shop.
But Oxfam say they can make use of any clothes, no matter what state they're in, as they can either sell them or recycle as textiles to make blankets, bedding and other items to send to countries in need.

To encourage more people to bring in their old clothes for good causes – M&S has teamed up with Oxfam for its first Spring 'One Day Wardrobe Clearout' event. On Thursday 24th March, members of the public can take their old or unwanted clothes to 367 M&S stores across the country, which will be donated to Oxfam. Every customer that donates a bag of clothing containing one M&S item will receive a £5 M&S voucher. The target is to collect 500,000 second-hand items – helping to reduce the amount of clothing going to landfill and raise crucial funds for the charity. Last year's Autumn One Day Wardrobe Clearout in September saw 350,000 items returned, worth over £1 million for Oxfam.
The research showed huge willingness to donate quality items, with 28% of women saying they would consider donating their wedding dress to a charity shop. However, it seems our busy lives are stopping us, with a third of respondents saying time was the main factor that stopped them from donating more to charity shops.
Charities could be losing out on up to £1.5 billion pounds of revenue a year – three times the annual income of some of Britain's biggest charities – because of the nation's habit of throwing away millions of items of clothes every year instead of donating them.
There are 9,000 charity shops, local authority recycling banks nationwide and numerous door-to-door collections in the UK, yet despite this we are still throwing away 391 million items of clothing every year. These are clothes that could be generating much needed income for good causes.