Visit Greece without leaving the country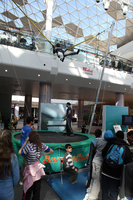 Greece is taking over Westfield London this week until Sunday 27th March in a bid to woo British tourists back to one of their favourite destinations.
Despite over 2.5 million UK holidaymakers travelling to Greece in 2010, for the first time in years the number of British tourists was significantly down in the wake of the Greek economic crisis, the Euro strengthening against Sterling and the dramatic effects of the volcanic ash cloud.
In a country where 20% of the population work in tourism, an industry that generates 18% of their GDP, the drop off in numbers was felt around Greece.
Greece has already taken major steps to reverse the trend. It has reduced VAT from 11% to 6.5% for all tourist services and has lifted its cabotage restrictions which prevented passengers on many international cruise ships embarking and disembarking at Greek ports.
And now it has just announced it is also waiving all commercial aircraft landing, take-off and stopover fees from April until the end of the year. The aim is to make the Greek regions and islands more attractive to low-cost airlines.
The early signs are good with tourist numbers to Greece increasing in January and February 2011, compared to the same period 12 months ago.
However, to further encourage more Brits to return, for nine days the Atrium at Westfield London in Shepherd's Bush will be taken over by all things Greek.
Visitors to the Greek Theme Park will be able to:
• Learn from acclaimed Greek chefs exploring modern takes on traditional Greek dishes and sample wine and ouzo
• Lounge on sun beds on a 'Greek beach' constructed with golden sand
• Find out about Athens and Thessaloniki as city-break destinations
• Play golf in a game simulating state-of-the-art golf courses
• Challenge themselves to rock climbing
• Explore the Greek islands via a sailing simulator
• Treat themselves to a relaxing spa treatment in a Thalassotherapy and Spa Centre.
• Children can play a game simulating an archaeological dig
There will also be an array of Greek celebrities on hand during the event to entertain guests. Among these will be:
• The cast of hit London musical Mamma Mia!
• George Nikitiades, Deputy Minister of Culture and Tourism
• Celebrity Chef, Christoforos Peskias
• Patissier Stelios Parliaros
• Bouzouki player Yiannis Polykandriotis who is shortlisted for the Cultural Olympiad 20102
• The Greek entry in Eurovision 2011
For more information, please visit: uk.westfield.com