Catch like a local, dine like royalty at The Sarojin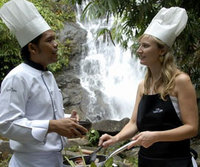 To cater to the increasing demand of guests seeking a more authentic encounter with rural Thailand, luxury boutique property The Sarojin has launched a new "Catch, Cook and Dine" foodie experience, enabling guests to engage with the local environment and quite literally fish for their own supper in some of Thailand's most natural and spectacular landscapes.
This new excursion begins with a superb opportunity for visitors to "go native" and travel, as the locals do, aboard a traditional longtail boat as they explore the tranquil estuaries of the magnificent mangrove forest. During their journey, they'll pass through the small coastal fishing village of Baan Nam Kham where local Thai fishing fleets and residents can be observed as they go about their daily lives, before learning how to fish for fresh white snapper and grouper, using traditional line methods and rod fishing, with an experienced guide and native Thai fisherman.
With their fresh catch in tow, guests will travel to a variety of local farms and industries to learn about some of the most vital ingredients in Thai cuisine, discovering where they come from and how they are produced for human consumption. Memorable tours include visits to nearby cashew nut, chilli and lemon grass farms to find out why these ingredients are used so widely in Thai dishes; as well as private trips to freshwater prawn and white snapper farms to see what goes on behind-the-scenes before seafood reaches the plate.
The gourmet experience will continue via pleat boat through the endless canals of the stunning "Little Amazon", stopping en route to taste and hunt for regional produce at the local Takuapa market, where Thailand's most popular ingredients and spices can all be found under one roof. Here, guests will be joined by The Sarojin's Executive Chef who will be on hand to share his passion, knowledge and expert insight on local delicacies, flavours and the surrounding area.
This special day will draw to a close with a fantastic opportunity to learn how to create a range of traditional Thai dishes, including Chu Chi Goong (grilled prawn in red curry and coconut milk), during an authentic Thai cooking class with Chef on the Takuapa riverbank. After learning how to fish like a local and cook like a masterchef, guests will be able to dine like a King and Queen with a spectacular safari-style gourmet lunch set amidst the breathtaking surroundings of the forest waterways. What better way to round the day off?
The Sarojin's new "Catch, Cook and Dine" package starts from THB 65,500 (approximately GBP 1,310) for two persons. The price includes six nights' accommodation in a luxurious Garden Residence for two people sharing, one day "Catch, Cook and Dine" experience, daily all day à la carte breakfast with sparkling wine and private airport transfers to and from Phuket Airport with refreshments and cold towels served for two people. This package is inclusive of all taxes and is available all year round.
Guests can enjoy additional benefits between 1st May and 31st October 2011 with a Special Bonus Nights Offer on all room types at The Sarojin, as well as complimentary all-day à la carte breakfast with sparkling wine for two people. During this period, guests who stay one night will receive an additional night free; a stay of two nights will lead to an extra two nights free; a stay of three nights will result in a further three nights free, and so forth. Prices start from THB 13,500 (approximately GBP 270) per room per night and are based on two people sharing, inclusive of taxes.
For further information on The Sarojin, please visit: sarojin.com