Get set to save with Saab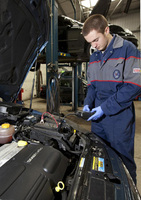 It's not often you get something for nothing, but that's exactly what is on offer for owners of Saab cars more than three years old.
Anyone who owns a Saab three years or older automatically qualifies for free membership to Saab's Service Club, a loyalty scheme that provides a host of exclusive benefits to its members including free visual health checksand discounts on parts, servicing and Saab accessories.
Alan Cowan, General Manager Aftersales at Saab GB comments: "Saab customers can really make the most of the Saab Service Club and the exclusive benefits it offers.
"The Saab Service Club offers a cost-effective way to keep Saabs in perfect running condition through their lifetime of ownership and new members can take advantage of the offers and savings available to them immediately after registering."
Saab GB has recently introduced a fixed price Annual service for cars that are three years and older for £249 and includes a thorough and comprehensive vehicle check including fluid top-ups and filter changes. An Oil service is also available for £129 and includes oil and filter change, vehicle diagnostic check, road test and wash and vacuum. Both service prices include parts, oil, labour and VAT.
In fact, it's not just owners of Saab vehicles three years or older that can take advantage of service offers. Owners of Saab vehicles under three years can take advantage of a tailored three-year fixed price service plan that covers all regular servicing and takes away the hassle of unexpected annual bills.
The Saab Service Plans are not only inflation proof, but customers can also decide what level of servicing they want.
Owners can benefit from calculated monthly payments based on annual mileage and how many services they want the plan to cover. This offers motorists increased flexibility and choice when it comes to looking after their car.
Prices are fixed for the duration of the plan, so there are no hidden interest charges, making it easier to budget and spread the cost of an annual service into instalments, just like household bills.
Cowan adds: "With our team of trained technicians we can offer the experience and expertise to help keep customers' cars in the best condition possible, servicing them to manufacturer's specifications and using only genuine Saab parts that are covered by a standard maintenance schedule."
For more information on the Saab Service Club and to register for free as a member, visit saabserviceclub.co.uk and for more information on fixed price service plans contact your local Saab dealership or visit saab.co.uk.