Cricket stars put the new Ford Focus to the test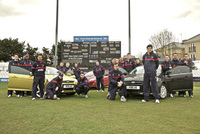 England and Essex cricket stars, Alastair Cook and Ravi Bopara have chosen the new high-tech Ford Focus for the new season. Graham Gooch, England and Essex County Cricket Club (ECCC) coach, also collected the keys to his brand new Ford car.
Mark Simpson, marketing director, Ford of Britain said: "As we celebrate our centennial year it seems only appropriate that Ford should continue our partnership with the game of cricket – both have a strong British heritage – and we're delighted to extend this relationship with the Essex County Cricket Club and its players."
Ford is confirming its ongoing sponsorship of the Essex County Cricket Ground in Chelmsford, which will continue to be called the 'Ford County Ground'. Ford is the county's largest private employer with the majority of Ford's 12,000 UK employees based at facilities in Essex. Ford has sponsored Essex County Cricket Club's home ground since 2005.
David East, chief executive of Essex County Cricket Club, said: "We are delighted to continue our successful relationship with Ford. It is great to have such a recognised brand associated with us and we're pleased to play our part in the launch of the all-new Ford Focus."