Mitsubishi awarded framework agreement for Buying Solutions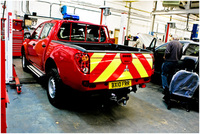 Mitsubishi Motors in the UK is pleased to announce that it has been successfully awarded a place on the Buying Solutions framework agreement (RM 859) to supply vehicles for public services. Buying Solutions is the national procurement partner for all UK public services and is part of the Efficiency and Reform Group within the Cabinet Office. Its role is to deliver best value for customers in central government and the wider public sector through the efficient procurement and supply of essential goods and services.
The Framework
Mitsubishi has been successful with vehicle supply in two lots. Lot 1 covers passenger cars and 4x4s and lot 2 covers light-medium commercial vehicles. The framework agreement, which officially started in February, will be used for the procurement of vehicles and vehicle conversions by Central Government, the Health sector, Local Government and the wider public sector.
Mitsubishi Specialist Vehicle Operations
Mitsubishi Motors is already well established within this market-place and provide bespoke vehicles to government agencies via its MSVO (Mitsubishi Specialist Vehicle Operations) facility based in the Cotswolds. MSVO attributes its success within the specialist arena to providing customers with an excellent flexible'one-stop-shop'. The unique and individual 'cradle to grave' service equips vehicles to a high standard but at the same time simplifies the customer's supply chain process.
Kate Woodward, Head of Corporate Sales for Mitsubishi Motors in the UK said: "Our business adds value at every opportunity and our aim is to make the process of ordering a specialist vehicle simple and cost effective by removing much of the hassle from the Fleet Manager. Our structure and flexible attitude mean that we are ideally positioned to find the right solution for our customers. Mitsubishi Specialist Vehicle Operations is now considered as a major player within the specialist fleet market-place and, over the years, we have built areputation of providing excellent service to our customers."