Ford reveals new Focus ECOnetic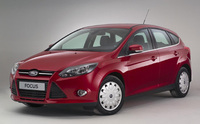 Ford has announced the new Focus ECOnetic, debuting next week at the Amsterdam Motor Show, will establish a new industry benchmark for fuel efficiency in the popular compact class.
The new Focus ECOnetic, which will go on sale in the UK early next year, leverages a host of advanced technologies that are expected to make it more fuel efficient than any other compact vehicle on the road today in Europe, including diesel, petrol and hybrid powered vehicles.
Focus ECOnetic is expected to achieve 80mpg on the combined cycle (less than 3.5 litres of diesel per 100 kilometres). In addition, Focus EConetic is expected to deliver ultra-low CO2 emissions of less than 95g/km when certification is completed later this year.
"The Focus ECOnetic is a testament to our company's relentless drive for technological innovation and commitment to environmental leadership," says Gunnar Herrmann, Ford's global medium car line director. "It's also going to be a great car to drive."
The new Focus ECOnetic will be available in both stylish five-door and estate bodystyles.
Latest Low-CO2 Technologies
To achieve its outstanding fuel economy, the new Focus ECOnetic employs the latest low-CO2 technologies in its powertrain, aerodynamics and driver information systems.
The vehicle is powered by a new 105PS version of the 1.6-litre Ford Duratorq TDCi diesel which has been optimised for enhanced fuel efficiency, with a new injection system and turbocharger, enhanced charge cooling and further friction reduction measures.
The Focus ECOnetic also benefits a number of additional low-CO2 features which have been developed specifically for this model including a unique aerodynamic package with an Active Grille Shutter, ultra-low rolling resistance tyres and a revised final drive ratio.
The new Focus ECOnetic incorporates the full range of Ford ECOnetic Technologies shared with other models in the all-new Focus line-up, including Ford Auto-Start-Stop, Smart Regenerative Charging, Ford Eco Mode and Shift Indicator Light.
Unique High-Efficiency Engine
The common-rail fuel injection system of the diesel engine has been completely redesigned, with eight-hole nano sac injectors operating at injection pressures of up to 1,600 bar, controlled by a more powerful engine management system. The new injection system delivers more precise control and increased combustion efficiency.
To provide more accurate control of the charge air temperature and to deliver a cooler, denser charge, the intake system features a water cooled intercooler in place of the standard air-to-air system.
Other new, or completely revised, features to enhance fuel efficiency include:
New variable geometry turbocharger design
Reduced engine friction from low-friction piston ring coatings and variable flow oil pump
Additional reduction in engine losses from low inertia vacuum pump and asymmetric crank sprocket design
Updated emissions system combining a diesel NOx-reducing catalyst with a coated Diesel Particulate Filter system
The 1.6-litre ECOnetic diesel is paired with Ford's six-speed Durashift manual transmission. This transmission is a totally new high-efficiency design which has been optimised to eliminate frictional losses, and utilises special low friction transmission oil.
A revised final drive ratio has been selected to raise the overall gearing, reducing engine speed and offering improved fuel economy when cruising in top gear. Economy is further enhanced by fitting the latest-generation dedicated low rolling resistance tyres.
Exclusive Aerodynamic Package
While the standard all-new Focus already boasts an exceptionally aerodynamic bodyshell (five-door CD = 0.295), the ECOnetic model has been designed with a number of additional features to minimise drag still further.
Much of the aerodynamic development was concentrated on smoothing the airflow underneath the vehicle. The ECOnetic derivative features additional undershields and deflectors.
Aerodynamic performance is also improved by the use of special low-drag ECOnetic wheel covers, which are more streamlined than a conventional alloy wheel design.
The ECOnetic model features, as standard, the innovative Active Grille Shutter – an advanced new system that optimises aerodynamics by using vents to control airflow through the grille to the cooling system and engine compartment.
If air is required to cool the engine the vents are opened; but if no airflow is needed, the vents are shut, thereby significantly reducing aerodynamic drag. When fully closed, the reduction in drag means that the Active Grille Shutter can reduce CO2 emissions by two per cent.
Low-CO2 Ford ECOnetic Technologies
The Focus ECOnetic incorporates as standard the full range of low-CO2 Ford ECOnetic Technologies which are shared with other models in the new Focus line-up including Ford Auto-start-stop, Smart Regenerative Charging, Ford Eco Mode and Shift Indicator Light. In addition the Focus ECOnetic includes:
Electric Power Assisted Steering
Low-friction engine and transmission oils
Low tension Front End Accessory Drive (FEAD)
Thermal Management Systems to optimise warm-up
Customer Availability in Early 2012
Available with either five-door or estate bodystyles, the new Ford Focus ECOnetic will be produced for the UK market at the lead Focus manufacturing plant in Saarlouis, Germany. Market introduction is scheduled to be in early 2012.
The existing Ford Focus 1.6 TDCi, which went on sale last month, and is available across all series, emits 109g CO2 /km while returning 67mpg