Special spring offers from Saab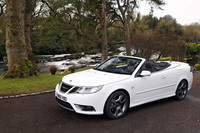 Saab Great Britain is celebrating the arrival of spring by offering the most comprehensive and competitive range of customer finance packages it has ever devised.
Available across its core product range are: competitive and affordable PCP schemes; contract hire agreements including lower monthly rentals; zero per cent interest and deposit terms; loyal and new customer offers with free servicing package.
Benchmarked against key competitors, these ultra-competitive packages are offered across the Saab dealer network for a limited period, ending 4 July, 2011.
PCP (Personal Contract Purchase). Improving residual values have enabled Saab Great Britain to offer highly competitive and affordable monthly payments. A Saab 1.9-litre 9-3 twin turbo diesel Saloon with 160hp and just 119 g/km CO2 emissions is now available for just £299 per month. PCP customers are also able to take advantage of a special three-year servicing plan for only £399.
Contract Hire Plan. Open to business and private users, monthly rental costs are reduced for all models by up to 6 per cent, while most standard specifications are improved. Prices start from £289 per month for a Saab 1.9-litre 9-3X twin turbo diesel SportWagon and £299 for a Saab 2.0-litre 9-5 TiD Vector SE.
Deposit-free, with zero per cent interest. These purchase terms are available for all regular models in the Saab range during the qualifying period. Payments can even be extended from 36 to 60 months, pending agreement with the supplying dealer.
Loyal and new customer offers. Existing Saab customers can claim price reductions of up to £3,000 by purchasing another new Saab, while those exchanging competitor products are rewarded by a reduction of up to £2,500. Both of these offers include free servicing for three years, worth approximately £1,000.
"Renewed confidence in the Saab brand and improving residual values have enabled us to sharpen our customer finance offers," says Craig Gentleman, Saab GB General Manager, Sales. "We now have the widest and most competitive range of finance products we have ever offered."
For further information on the Saab range, visit saab.co.uk.