Turkish property agents confident about outlook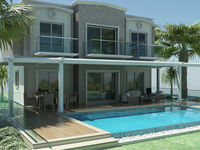 At a recent press conference, held by the Turkish Real Estate Investing Partners Association (GYODER), it was revealed that property sales in Turkey to foreigners in 2010 were up 40% reaching sales of $2.5 billion compared to the previous year.
Not quite eclipsing the pinnacle of Turkey's property performance, between the economic peak in 2006 to 2008 sales to foreigners approached $3 billion, the recent figures disclosed in their "The Real Estate Sector of Turkey and The World, Fourth Quarter 2010" report, clearly show that Turkey's popularity as a holiday home and investment destination, unlike some countries, is far from waning.
GYODER President, Iþýk Gökkaya commented: "Real estate sales to foreigners rose again in 2010 as a result of increasing confidence in Turkey".
These are sentiments shared by established Turkish property agents Spot Blue, who have been selling property to Brits, the Irish and international community since 2003. Julian Walker, Managing Director of Spot Blue further comments,
"Turkey on the whole, has learned from other Mediterranean markets and has steadily increased its real estate offering to foreigners without over stretching resources or demand. Yes, there are pockets of high supply, however with 8300 kilometers of stunning Aegean and Mediterranean coastline buyers are spoiled for choice in terms of location, property type and homes to suit all budgets."
The south west corner of Turkey where the Aegean coast meets the Mediterranean, the Bodrum peninsula, is an increasingly accessible and popular destination. Bodrum International Airport is serviced by over 15 airlines flying from across Europe including easyJet, First Choice Airways and Thomas Cook from the UK. Monarch Airlines has also responded to client demand and will be operating twice weekly flights from Manchester to Bodrum from 2nd May.
Bodrum itself is an ancient fishing village, with fragments of its past revealed to visitors in the amphitheatre, chapels, museums and the castle of Saint Peter, the symbol of Bodrum today. Not only is it a centre for culture but is also a lively town for visitors with plenty of restaurants and bars as well as its famous bazaar for those looking to seek out Turkish shopping treats. Just outside of Bodrum and south of Yalikavak is Gümüslük, known to the ancients as Myndus. It is the place to discover more about this historical region from underneath the turquoise sea waters. Popular with divers, it is also now an area which offers an alternative to the hustle and bustle of Bodrum living with superb beaches and traditional tavernas.
Walker continues: "At Spot Blue we like to offer our clients something different from the rest and Gravillia Beach & Residences is a boutique development of 28 three bedroom and two bathroom villas which certainly stands out from the crowd. Each villa boasts a panoramic 180 degree sea view and private pool as well as use of a private beach, beach club and fitness centre. It's truly a lifestyle choice for buyers seeking that perfect Mediterranean bolt hole away from the well-trodden tourist tracks."
Gümüslük is a living fishing village and so unlike so many secluded villages has a welcoming atmosphere all year round and is accessible from other towns via the local dolmases (buses). The villas here are available from £450,000, a small price to pay for a slice of such unspoiled coastal beauty.
With developments such as Gravillia Beach & Residences on offer in Turkey it is clear to see why it's an ever increasingly popular choice for overseas property buyers. Buyers can own more exclusive properties in Turkey with added space, amenities and quality for the same price as a small apartment in the likes of the established and built up Mediterranean countries now suffering in the economic down turn.
For more information, visit spotblue.co.uk.