Sunny sounds for festivals and party's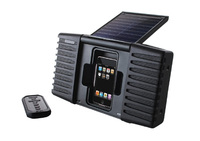 Summer festivals and outdoor party's will rock with sounds powered by the sun with the Eton Soulra. A portable, self powered sound system for iPod and iPhone.
Soulra - the portable, self powered sound system for iPod and iPhone.
The Soulra features a large solar panel and a rubberised splash-proof exterior, providing a portable solution for hours of sound powered by the sun or the internal re-chargeable battery.
Power
As a new self-sustaining sound system, the Soulra contains a large, high-efficiency solar panel, which also works in cloudy conditions, and a rechargeable lithium-ion battery that delivers power to charge and play your iPod or iPhone.
Protect
Its suitable for all-weather use outdoors; with a durable aluminium and rubberised body. The splash proof casing and the speakers are sealed on the inside - providing protection from sand, mud, water and other outdoor elements.
Play
The full-range speaker drivers provide crisp sounds with an audio line input for flexibility.
With exceptional levels of performance, technology and rugged good looks, the Soulra is the perfect outdoor companion whether you are partying outdoors, camping, gardening at the allotment or enjoying a day at the beach.
Soulra offers multi-regional use with an adapter that works from 100-240 Volts and an interchangeable plug for the UK and Europe plus a remote control.
Available for £149 at amazon.co.uk.