DAF launches new EcoDrive Driver training programme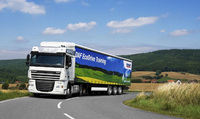 DAF has introduced its EcoDrive Driver training programme in the UK, to help operators get the maximum out of their drivers and vehicles.
Fuel is one of the highest direct costs in running a transport operation with a potentially huge effect on the profits of a business. The need to operate vehicles as efficiently and as safely as possible is therefore of paramount importance to all road transport operators.
The DAF EcoDrive driver training programme will help UK operators realise the benefits of reduced fuel consumption, improved health and safety for drivers and better driver productivity through tailor-made training courses. Furthermore, most EcoDrive training courses satisfy the requirements for the Driver CPC.
Tony Pain, Marketing Director DAF Trucks, said, "The cost of running a road transport operation is climbing almost on a weekly basis and it's very important to ensure costs are kept to a minimum. Having well trained drivers can have a significant bearing on the bottom line and DAF's EcoDrive driver training programme can really help with those savings, especially as most courses can be designed specifically to suit each operator. This ensures the drivers improve their skill set and operators can reduce fuel consumption and, indirectly, service and maintenance costs as the vehicles are being driven efficiently".
For example, the annual fuel bill for a 44-tonne truck is in the region of £60,000. An improvement of just 3% in fuel consumption translates into a saving of £1,800, which can be multiplied further for every driver trained.
Pain added, "DAF has consulted its customers to develop and deliver a range of training courses around their needs. EcoDrive not only stands for 'economy' and the cost benefits that are associated with highly trained driver, but it also stands for 'ecological'; meaning that while drivers are reducing their fuel consumption they are also helping to drive down emissions".
DAF's EcoDrive Driver Training team have an in-depth understanding of how to get the best out of both driver and vehicle, and provide professional drivers with Driver CPC approved and qualified training to support every individual operation. Courses range from 'in-class' covering subjects ranging from fuel economy and the environment, safety and the law, customer care to tachographs and drivers hours. Additionally 'in-cab' training covers subjects such as driving style and how to get the best performance and economy from the DAF range of vehicles and can be provided with minimum disruption to work schedules.