Ford engineer named Dynamicist of the Year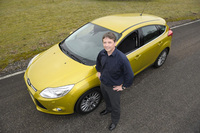 Vehicle Dynamics International magazine has named Ford's Jürgen Pützschler "Dynamicist of the Year" for his work on the all-new Ford Focus and C-MAX.
Pützschler, Ford supervisor of medium car vehicle dynamics, was chosen from a three-person shortlist by an international panel of judges.
"This is truly a great honour and I am very pleased to receive this award on behalf of the entire Ford vehicle dynamics team," said the 49-year-old engineer.
Vehicle dynamics – how a vehicle behaves on the road – profoundly affect the way customers perceive a car, yet in terms of recognition they are an often overlooked element in its development. Pützschler and his team are responsible for Ford's acclaimed vehicle dynamics, including body stiffness, ride and handling, with the ultimate goal of achieving a vehicle that is fun to drive for all.
"Ford's new medium, or C-car, platform is its most versatile yet: a range of family cars, MPVs, SUVs, electric vehicles and performance cars will all derive from it, for worldwide markets and with a remarkable degree of commonality between them. It can be a thankless task to serve so many masters, but on the evidence of the Focus and C-MAX, Jürgen has done a remarkable job," said Graham Heeps, editor, Vehicle Dynamics International and member of the judging panel.
Cologne-based Pützschler said he considered the award an honour for Ford's global team, which challenged itself to deliver top driving quality even as it improved the refinement of Focus and C-MAX.
"Most car manufacturers concentrate on either vehicle dynamics performance or on quality and refinement," he said. "The perfect combination of both attributes may be the key reason for the award. We could have decided to significantly increase refinement, quality impression and maturity and trade vehicle dynamics against it, but we decided to improve on both."
Pützschler is a self-confessed driving fanatic, with roughly half of his working life spent behind the wheel of Ford development vehicles. From Ford facilities in Germany and Belgium, to the famous Nürburgring circuit and lesser known roads in Wales and Essex in the UK, he goes to great lengths to help ensure Ford's C-segment vehicles offer leading dynamic performance: youtube.com/watch?v=jqU2Vqz9Iag