Ford and Shakespeare's Globe act together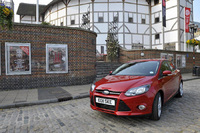 Ford is continuing to support London's world-famous Shakespeare's Globe theatre, providing three Ford Transit vans and two Ford Mondeos for the European tours of "Hamlet" and "As You Like It" this summer.

These Ford vehicles will transport the actors, sets, crew, costumes and props to locations all over the UK and Europe, performing at over 40 locations from Hedingham Castle in Essex to Argotti Gardens in Malta.

Anthony Hewitt, development director at The Globe, said: "We are delighted to receive this kind of support from our friends at Ford. The support they provide as a strategic partner has helped establish the international reputation of Shakespeare's Globe since 1994."

The entrance gates to the new Globe theatre on London's South Bank, were sponsored by Ford and are decorated with over 120 forged symbols from Shakespeare's plays and poems.

As The Globe celebrates Shakespeare's 447th birthday this month with the launch of their Hamlet production, the celebration of Ford of Britain's centenary is also underway, marking 100 years since the first UK-built Model T rolled off the line at Trafford Park in Manchester. The all-new Ford Focus went on sale in the UK last month and will be sold in 120 countries globally.