Turners (Soham) hits triple century with DAF CF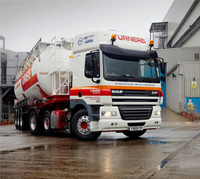 Cambridgeshire-based haulage firm Turners (Soham) has recently taken delivery of its 300th specialised DAF CF FTP tractor unit. The arrival of the new truck means Turners (Soham) is now one of the largest fleet operators of FTP CFs in the UK and it will form part of the specialised transport operator's existing 1000-strong truck fleet.

What makes DAF's FTP tractor unit so special is that it comes fitted with 17.5-inch wheels and tyres on the mid-lift axle for reduced weight. With the FTP axle Turners (Soham) now get an extra 500kg of payload compared with the more traditional 22.5-inch wheels.

To meet the growing demands of the business the new award-winning CF will be deployed on bulk tanker operations. Turners (Soham) has specified its noteworthy new vehicle with Spacecab and AS-tronic automated gearbox, with power coming from DAF's efficient Euro-5 410hp 12.9-litre MX engine.

Franklin Turner, Director of Turners (Soham), said, "We've been using DAF CF for a considerable time now and they have proven to be reliable, efficient and are popular with our drivers. Having a smaller lifting third axle gives us about 500kg extra payload, which gives us the advantage of maximising our fleet efficiency without any compromise in vehicle performance".

The tractor unit, wearing its own personalised plate "T300 FTP", was purchased outright through local DAF dealer Marshall's of Cambridge. "The truck will cover over 100,000km per year and during its three-year warranty, supporting dealer Marshall's will be responsible with the service and maintenance", said Turner.

Founded in 1930, Turners (Soham) Limited is today one of the largest independently-owned transport and distribution businesses in the UK. It specialises in bulk tanker and temperature-controlled work and runs 1,000 trucks from several locations in the UK.