Saab on the move with rising residual values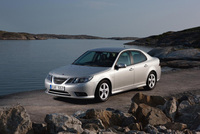 Major leasing companies and industry analysts are forecasting trend-busting improvements in future residual values for Saab's best selling models.

The Swedish premium carmaker is entering its second year as an independent company and rising confidence among business users is being reflected in a significant uplift of residual values for its core 9-3 range.

According to leading industry analysts CAP, the residual value of Saab's top-selling model, the 9-3 1.9-litre Turbo Edition diesel Saloon, has risen over £1,000 during the last 10 months.

Jeff Knight, Monitor Editor at CAP, said: "The rise in forecast values for the Saab 9-3 over the last ten months has been driven by an increased confidence in the brand; allied to an improved product content creating a better future used car."

Apart from renewed confidence in the Saab brand, this trend reflects a class-leading benefit-in-kind taxation advantage for Saab's latest 9-3 manual twin turbo diesel range. With CO2 emissions of just 119 g/km in combination with the 180 hp variant, the most powerful sub-120g/km car on sale in the UK, the Saloon and SportWagon are within the lowest diesel benefit-in-kind taxation band (13 percent) for company car drivers. Recent specification improvements, such as Bluetooth phone connectivity, Leather upholstery and heated front seats are fitted as standard on all models.

With sales increasing by 73.5 per cent in quarter one compared with the same quarter last year, Saab Great Britain is also expanding its corporate sales team with the appointment of Michael Cutts as Corporate Sales Manager for the North. His role is to establish contact with user chooser fleets with the objective to place Saab products on their choice lists and develop relationships with the independent contract hire and leasing industry.

"These rising residual values show that Saab is moving swiftly in the right direction," says Paul Adler, Saab GB's General Manager, Corporate Sales. "This significant trend is due to a number of factors: greater confidence in the brand, improved specifications offering greater value, and a competitive advantage in terms of CO2 emissions for our best-selling models.

"With more new products to come later this year, such as 9-5 SportWagon and 9-4X crossover, Saab is in good shape to continue its renaissance."