Free accessories for Yamaha's XT1200Z Super Ténéré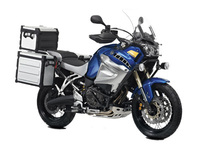 Yamaha's XT1200Z Super Ténéré is built from the ground up to excite. Great road manners with a tough and reliable parallel twin engine, the Yamaha adventure bike bristles with advanced technology to help you make the most of its potential.

During May, Yamaha present an extra offer to tempt would-be adventurers even further.

Not only do test riders receive a FREE DVD and book featuring Nick Sanders and the chance to win a Moroccan adventure PLUS purchasers will receive a Ténéré adventure in Wales, but during May, if a new 2011 model is purchased from any Yamaha dealer, these customers will receive £1600 worth of accessories absolutely FREE (new buyers of the 2010 First Edition model will receive free accessories to upgrade to the 2011 specification)!

The extras will certainly enhance the experience:

Item - Part Number - RRP
Engine guards 23PF43B00010 £244.99
Fog lights 23P854A30000 £239.99
Wind deflector kit 23PF83M00010 £83.99
L/H Pannier 23PW07511L00 £329.99
R/H Pannier 23PW07511R00 £304.99
Pannier Stay Set 23PF84G00000 £134.99
Top box 23PW07540000 £286.99
test rides at participating Yamaha dealer.

Full details including terms, conditions and test ride locations can be found at yamaha-motor.co.uk.

Please note: 2010 First Edition XT1200Z are not eligible for the full accessory pack, however these models will be entitled to complementary engine guards, fog lights, wind deflector and top box, worth over £630 extra, during the campaign period. Of course, test rides are subject to availability through participating dealers and other terms and conditions apply. The demonstration campaign finishes on 30th June and the accessory promotion is ONLY offered to purchasers of XT1200Z during May 2011. Excludes cost of fitting.