'I, Superbiker' movie now available on DVD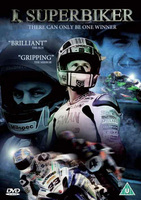 Following fantastic reviews, a hugely successful film premier in Leicester Square and sell-out screenings 'I, Superbiker' is now available to buy on DVD.

'I, SUPERBIKER', is a no-holds barred full length motorcycling documentary film, directed by Mark Sloper (The Final Cut and Small Time Obsession) in association with the MCE Insurance sponsored British Superbike Championship (BSB) and Motorcycle News (MCN). With the film score by David Vanian of The Damned, and music by Phil Collen of Def Leppard and Man Raze it is definitely a must see.

This high-octane documentary is the first of its kind to closely follow the exploits of four motorcycle racers as they compete in the hotly contested MCE Insurance sponsored British Superbike Championship. The film, shot in high definition, takes an intimate look at the two-wheel gladiators as they risk life and limb at each race meeting knowing that there can be only one champion. As well as capturing stunning on-track action, the film goes behind the scenes to follow the unfolding drama among wives, girlfriends, teammates and managers. Everyone wants their rider to win and passions are aroused when things go wrong.

One of the four riders featured is the great British hope, Tommy Hill; having cheated death at the age of 14 Tommy is now fearless and his parents have sacrificed their home, holidays and finances to support his burning ambition to be Britain's number 1 superbike racer. Tommy commented, "British Superbikes is motorcycle racing at its very best and this film shows that brilliantly. It's amazing to see BSB on the cinema screen. It's a massive sport with a great following - now hopefully people who don't know it that well can see what an incredible event it is".

Alongside Tommy Hill, 'I,Superbiker' is a revealing portrait of the highs and lows of fellow racers, James Ellison, Josh Brookes and Gary Mason, riding through torturous conditions and risking life and limb at every race meeting. Motorcycle fans and thrill seekers alike will be able to experience the gladiatorial speed, strength and tenacity of the riders as they battle their way through the dramatic 2010 BSB Championship.

+ EXTRAS INCLUDING: THE LEICESTER SQUARE PREMIER – GARY MASON'S LAP OF BRANDS HATCH JAMES ELLISON'S ROAD TO RECOVERY – TRAINING WITH TOMMY HILL – JOSH BROOKES IS KING OF THE MOUNTAIN AND THEATRICAL TRAILER!

The DVD is available from odeonent.co.uk, amazon.co.uk, play.com, hmv.co.uk and HMV stores.