Machu Picchu - Sold out but not out of bounds this July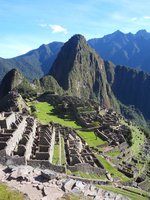 Permits to trek the Inca Trail may be largely sold out until August but adventure-hungry travellers can still trek their way to Machu Picchu for its centenary celebration (24 July) using an alternative less-travelled route with Imaginative Traveller.
With the festival of the sun - 'Inti Raymi' - celebrating the winter solstice on 24 June and the 100 year anniversary of the rediscovery of Machu Picchu on 24 July, thousands of people are expected to descend on this new 'wonder of the world' over the summer months.
Despite fears that the lack of permits for the Inca Trail will mean missing out on the festivities, those holidaying with Imaginative Traveller will be able to follow Incan trails to Machu Picchu along the lesser-known Lares Trek.
Adventurers who avoid following the herd will find this route allows them to delve much deeper into Incan civilisation. With stunning views of the Andes Mountains and reaching a higher altitude of 4350m, the route takes trekkers though remote rural villages where they can interact with local families, llama herders and weavers renowned for their brightly-coloured hats and ponchos. Best of all, the Lares Trek is quieter than the classic route so travellers can enjoy the experience without fear of crowds.
TRIPS ARRIVING IN MACHU PICCHU ON 24 JULY VIA THE LARES ROUTE:
- Cusco & the Inca Trail (9 days departing 18 July from £925pp land only) This short adventure offers the highlights of the Inca Empire, showcasing Cusco, the Sacred Valley and a 4-day trek to Machu Picchu.
- Inca Trek & Machu Picchu (6 days departing 20 July from £520pp land only) A magnificent trek through the winding valleys and high routes of the Lares Inca Trail, with the final destination of Machu Picchu - the eagle's nest of the Inca Empire.
- Inca Highlands (15 days departing 17 July from £1085pp land only) This overland adventure combines the highlights of the Inca civilisation with the unforgettable 4-day trek along high mountain trails to Machu Picchu. The tour then heads across the Altiplano to the islands of Lake Titicaca and across to La Paz.

Celebrations will take place in and around Machu Picchu throughout July to celebrate the rediscovery of the ancient site a century ago by Hiram Bingham. An official ceremony will also take place at the ruins on 7 July - the anniversary of when the new 'seven wonders of the world' was announced - with many prestigious guests, including members of Bingham's family and the Peruvian president, expected to attend.
For more information visit: imaginative-traveller.com