Bed&Fed – Who said running a B&B was just for old ladies?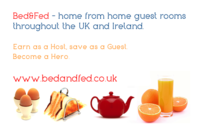 At a time when more and more people are desperate to start climbing the property ladder, but equally young buyers are struggling to pay mortgages, Bed&Fed offers an easy, fun, flexible and fulfilling way for people to make money from their homes.
Founder Annabella Forbes noticed that so many of her young, particularly newlywed friends, were struggling with payments and comments, "at a time when we are so social and open to new ideas Bed&Fed is perfect as it's just like having friends to stay except that you make money from it! It's very easy-going and attracts really friendly people who understand the concept behind it. It's not like running a full-time business or having a full-time lodger, which many couples don't want - you can appear 'available' as much or as little as you want".
Becoming a Bed&Fed Host is easy: earn money (by charging anything you like per person per night) by ensuring that your guests are fed that evening with whatever supper you had already planned, have a good nights sleep and a simple breakfast of cereal and toast.
Being a Bed&Fed Host means you can still have a full-time job - the website tells us that 'It's the easiest way to host' - you're making supper already and you don't have to provide the cooked breakfast that so many B&B's hate doing because of the amount of time it takes and potential waste. Bed&Fed is easier than running a full-time B&B and is perfect for anyone who likes cooking, company and is proud of where they live.
Evidently, it's not just their mothers who are registering as Hosts! 20 and 30-somethings have started to see the potential in Bed&Fed. Both Guests and Hosts in this way are a little like 'mature couchsurfers': Guests want a comfy spare room (not a sofa or floor), a tasty supper, and a quick breakfast, while Hosts get paid for their services.
Reviews given by Guests for this type of homemade hospitality have been fantastic, but the Hosts? What do they think? A comment left on Bed&Fed's Facebook page speaks volumes: "We had a lovely B&F guest to stay last night. Very chatty and fun - and he brought a lovely bottle of wine with him. He was very complimentary about the comfortable bed, our home, the supper and loved playing with our dog. Perfect guest."
Bed&Fed certainly has a personal approach to business, expelling corporate methods in favour of friendliness and interaction with its network of Hosts. Belonging to Bed&Fed is fun: a cookbook of 'Bed&Fed Recipes' is in the pipeline, the 'ChiefChick' (Annabella herself) blogs and tweets, the website has animated videos and even a catchy jingle. In short - it has spirit (plus a brand new iPhone app!).
As part of their 1st Birthday Celebrations, every Host (for the modest annual membership fee of £70), will automatically receive 15 months plus access to discounts at various food companies and a £40 wine voucher.
Bed&Fed is now recruiting! For more information, visit: bedandfed.co.uk