Turkey real estate sales to foreign nationals increases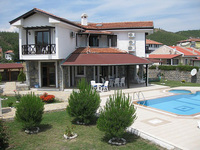 There has been a marked increase in the number of overseas buyers active in the Turkish property market which has been noted in a recent report by the Association of Real Estate Investment Companies.
Between 2006 and 2008 property sales to foreign nationals stood at $ 3 billion (£1.8 billion approx). In 2009 this fell by $1.8 billion but has now shot up again to $2.5 billion.
Consumer confidence is up too. The Turkish Statistics Institute ( TurkStat) and the Central Bank of Turkey jointly prepare monthly reports on consumer trends and they recently reported the index showing an increase from 90.99 points in December 2010 to 91.29 points in January 2011.
According to the 2011 World Economic Outlook report by the IMF, the global economy will grow by 4.4 percent this year and by 4.5% in 2012. The economic outlook report expects Turkey's GDP to grow by 4.6% this year and 4.5% in 2012.
"Whilst these statistics are heartening here in Turkey itself in the Mediterranean heartland for British buyers of Turkish properties, we have noted a steady increase in inspection trips and purchases" says Suleyman Akbay, MD Oceanwide Properties a company specialising in homes along a 210 mile stretch of coastline.
"With a stable, democratically elected Government and of course wonderful weather and a safe environment, Turkey has much to offer. Most properties in the Mediterranean region of Turkey have been built in recent years so buyers get modern, easy to maintain homes at very enticing prices. Also, whilst the majority of British buyers come with a view to buying at a coastal resort, others are now extending their search into nearby villages which can be equally appealing with mountain and sea views and of course in the very heart of the summer months offer welcoming cooling breezes".
There is a wide choice of properties on oceanwideproperties.co.uk and a selection of what is available is below.
3 bedroom villa in Uzumlu £110,000
Immaculate resale 3 bedroom private detached villa on 700 sqm plot in the beautiful countryside of Uzumlu just a few minutes drive from the village centre. Lovely mountain & forest views with a good sized garden this villa would make an ideal permanent home or luxury holiday / rental property. ref 2151172
Seaview duplex 2 bedroom apartment £125,000
Luxury seaview duplex 2 bedroom 1 bathroom apartment in an exclusive district of Fethiye with superb views across the harbour. The town centre is within easy walking distance with its myriad shops, restaurants & waterfront cafes. Excellent investment opportunity as the views can never be compromised & this area is always in high demand. ref 2111168
£130,000 4 bedroom villa with private pool on a large plot
A superb 4 bedroom,3 bathroom detached villa with full air conditioning & central heating on a large plot of almost 1000sqm in the beautiful village of Kemer. Blessed with gorgeous mountain views but located on the flat, this villa is ideally situated for those wanting peaceful surroundings but within easy access of shops etc. Fethiye is only 20 minutes drive away & the village itself has everything you need for day to day living including several restaurants. Kemer has a good size permanent foreign population as it is the perfect place for all year round residence. ref 2148647