2011 official Yamaha WSB replica team gear released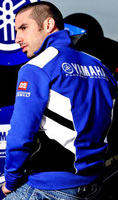 Off the back of a pair of stunning race wins at Monza, Yamaha has unveiled details of the official 2011 Yamaha World Superbike (WSB) replica team clothing collection, which will only be available from authorised Yamaha dealers.

Based on the team clothing as worn by Marco Melandri and our very own race-winning British contender Eugene Laverty, the new replica team wear will be available from authorised Yamaha Dealers from mid-June.

So, if you're a fan of the Yamaha WSB team, there is no better way to show off your allegiance than with an item from the fantastic line-up which includes items for men, women and kids.

To see the complete range of new gear available including jackets, shirts and t-shirts, log onto our website; yamaha-motor.co.uk/accessories or get down to your nearest dealer for more details.