John McGuinness secures 16th TT win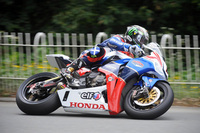 The 2011 Isle of Man TT began in spectacular style for the Honda TT Legends team as John McGuinness led the majority of the six-lap Superbike race to secure the victory and take his tally of TT wins to 16. His teammate Keith Amor put in a heroic performance, riding through the pain of his injured shoulder to bring home the Fireblade home in fourth position.

The race began under blue skies with McGuinness and Amor the first two riders off the start line. McGuinness immediately set the pace, leading lap one before dropping into second place at Glen Helen on lap two. Amor looked to be struggling in ninth place, but by the end of lap two he had climbed to eighth.

A slick pit stop from the Honda TT Legends team at the end of lap two saw McGuinness reclaim the lead ahead of Bruce Anstey, while Amor slotted into fifth. When Anstey was forced to retire on lap three, McGuinness entered into a close battle with Guy Martin – always maintaining the lead with an 18-second gap between the two.

Another seamless pit stop took place at the end of lap four and when Martin retired from the race on lap five, McGuinness cruised through his sixth and final lap. He won the race with a 57-second lead over the Honda TT Legends' Endurance World Championship reserve rider Cameron Donald. Despite suffering with shoulder pain and battling with a gear selection problem, Keith Amor ended the race in fourth – a great result for the injured Scotsman.

McGuinness's 16th win marks the 56th TT victory for the Louth-based Honda team – the most amount of wins for any one team in TT history. With the top four places occupied by Honda and three of those places occupied by Honda TT Legends riders, it has certainly been a successful opening race for the manufacturer. John McGuinness and Keith Amor will both compete for the Honda TT Legends in the Senior race on Friday 10 June.

Neil Tuxworth, team manager
From a team perspective and a Honda perspective that was absolutely fantastic. There's been a lot of pressure on the team, we had problems last year and John so much wanted to win that race. I am just so pleased, so happy for the team. The pit stops went smoothly, the team is really working well together and the bike never missed a beat so we're over the moon.

John McGuinness
I am speechless… I feel like I am dreaming. It looked like it was going to be a mega-close race to begin with. Bruce was really pushing hard at the beginning there and we lost some time but we had a great pit stop, went back out and got the lead back. I did six good laps, I didn't make any mistakes and we had two terrific pit stops by a fantastic team. They put a lot of faith in me and I put a lot of faith in them and it paid off. It was tiring but I have to say that the EWC races are really paying dividends now in terms of bike fitness. Somebody said to me today if you get that 16th win it will be sweet 16 – and it certainly feels sweet.

Keith Amor
That was tough – that was tougher than the Bol d'Or 24-hour and I thought I would never do anything as hard as that again. I was really struggling, not only with my shoulder but with a problem selecting gears on the bike too. I was close to finishing after the first pit stop but we made the decision to keep going and a fourth place is the reward for that. I'm glad I carried on, but I'm also glad it's over. I am so pleased for John though – he really deserves that win and it's brilliant for the team. What a great day for Honda!

For further information on Honda TT Legends visit the website hondattlegends.com.