First test dates for Caterham SP/300.R announced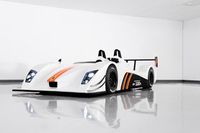 Caterham Cars has released the first series of dates on which racing drivers and trackday enthusiasts can get their hands on the new SP/300.R sports prototype.

Potential SP/300.R owners will be able to track test the 300bhp, 180mph racer on the following dates:
Saturday, August 27 at Donington Park
Wednesday, September 7 at Donington Park
Thursday, September 15 at Snetterton
Wednesday, September 21 at Donington Park

Customers who have already placed orders will be given priority booking slots, after which the extensive list of people who have registered an interest with Caterham will be offered one of the strictly limited drives.

Since it was launched at Autosport International in January, 14 of the 25 Caterham-Lola SP/300.Rs that will be built this year have been snapped up. Anyone wishing to book a test drive on one of the above dates should call 01883 333700 or 01455 841616.

Caterham Motorsport Manager, Simon Lambert, said: "There has been a huge amount of interest in this car since we unveiled it at the start of the year. It will be fantastic to get it on track this summer and we can't wait to see the look on people's faces when they try it for the first time. We are confident it will be everything they expect and more."

The SP/300.R will be built in a newly-equipped facility neighbouring Caterham's existing factory in Kennet Road, Dartford. The building became available earlier this year and will allow the build team to work alongside the Company's main engineering base.

For more information, visit caterham.co.uk.