Pioneering new astro-adventure holiday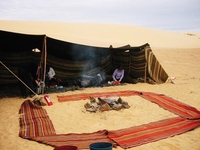 The Adventure Company has introduced the first in a series of new family astronomy holidays which combine adventure, star-gazing and breath-taking landscapes.
The new Active in the Sinai Family Astronomy Tour, departing 7 August, is designed for children aged 12 upwards. The eight-day trip will see families whisked off on an Egyptian adventure which combines all the action of the desert with the wow factor of the stars, planets and meteors.
Claire Wilson, MD of The Adventure Company, explains: "One of the most memorable elements of holidaying overseas is the chance to marvel at the multitude of stars, having escaped our normally overcast conditions. We know from our customers that even having a bit of knowledge can greatly increase their enjoyment of the night skies and we hope that these new live planetarium shows will help open a window onto another world for travellers of all ages."
The remote location chosen in the Sinai desert, far away from towns and potential light pollution, should ensure crystal-clear conditions for taking in the splendours of the night sky while the low half-moon, early evening sunsets and time of year will mean the Milky Way and Saturn are especially visible. Furthermore, with the annual Perseid Meteors expected to peak around 12 August, families will also be well situated to catch sight of a bright shower of shooting stars.
Working with its sister company, astronomy experts Explorers Astronomy Tours, families will be treated to two nights of stargazing and live planetarium shows hosted by resident 'Galactic Ranger' and acclaimed astronomer Dr John Mason. Ensuring enquiring minds are kept fully entertained, the astronomy evenings will also closely follow the Key Stage 3 and 4 curricula.
"Dr Mason's enthusiasm for the celestial world is contagious and he has a wonderful way of bringing astronomy to life for kids and adults alike. We're therefore delighted to be able to work with him on this new family adventure and confident that the star-gazing element will prove a holiday highlight," adds Wilson.
The active itinerary, exploring Egypt's deserts, mountains, canyons and Red Sea, has been designed with older children in mind. Over the week the group will trek to the top of the White Canyon on camel, enjoy a jeep safari into the desert before camping under the stars, examine a frozen dinosaur rock formation, sand-board from the top of the region's highest dune and make a splash on a snorkelling safari in the Southern Oasis. And, for added adrenaline, additional options include diving, windsurfing, kayaking and an overnight excursion to Mount Sinai.
The 7 August departure costs from £939pp including flights, two nights of star-gazing led by Dr John Mason, seven nights' accommodation (including one night camping), transport (minibus, camel, boat and 4WD), some meals (seven breakfasts, three lunches and two dinners) and an experienced local leader.
The Adventure Company will be introducing further family astronomy tours to its new brochure in October.
To find out more about The Adventure Company's family astronomy holiday visit: adventurecompany.co.uk/astronomy