Yamaha supports Silverstone for MotoGP and Formula 1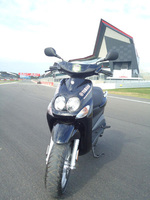 The team at Silverstone Circuit have chosen Yamaha's stylish Neo 50cc mopeds to help get them around the venue at last weekend's 2011 AirAsia British MotoGP and the upcoming 2011 FORMULA 1 SANTANDER BRITISH GRAND PRIX.

Richard Phillips, Managing Director of Silverstone Circuits Limited, commented: "We are very grateful to Yamaha for supplying us with scooters for our two major events this summer. It is vital that the Silverstone team can easily travel around our 800 acre venue during events and we feel that the Neo's are the perfect machines to do the job."

Simon Belton from Yamaha "We are delighted that Silverstone have chosen the Yamaha Neo's to help their team deliver successful events. The dependable, reliable and sustainable four-stroke 50ccc engine makes that model one of a range of great scooters of Yamaha's World Championship winning brand."

Visit yamaha-motor.co.uk for details on Yamaha's dealers and range of motorcycles and scooters.

Visit silverstone.co.uk for more information on their range of activities, facilities and events.