Saab 9-5 - prices and specifications extended and enhanced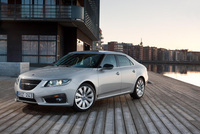 The Saab 9-5 range is substantially extended and improved for Model Year 2012 by the introduction of the recently announced SportWagon and a series of enhancements, including further reduced CO2 emissions for all engines.

The much awaited SportWagon adds five-door versatility to the acclaimed attributes of the 9-5 Saloon, providing a distinctive, alternative choice for premium wagon customers. It is expected to become a major player in a vehicle segment where Saab, with its tradition for designing sporty but practical vehicles, has previously enjoyed sales volumes even higher than saloon levels.

Both the 9-5 Saloon and the SportWagon benefit from more efficient diesel and petrol engines, all of which deliver reduced CO2 emissions and improved fuel consumption. Refinements include a host of fine-tuning measures and the introduction of Start/Stop functionality. CO2 emissions are reduced on average across the range by 4.7% percent.

Saab chassis engineers have also made the latest 9-5 range even more fun to drive. Extensive testing and development work on UK roads has achieved greater ride refinement, particularly on rough surfaces.

Inside, the spacious cabin is given a new look with the addition of metallic-like trim finishes for both Vector SE and Aero variants. Satellite navigation and digital radio (DAB) also become standard on all models.

"The latest 9-5 range offers customer benefits across the board, with lower emissions, improved fuel consumption, enhanced cabin features and even better driving dynamics," says Saab Great Britain Managing Director Charles Toosey. "The New 9-5 SportWagon is also a stunning addition to the range which substantially broadens the appeal of our product offer. It builds on Saab's strong brand tradition for versatility, and will provide a compelling choice for customers who value distinctive design, premium quality and great flexibility."

The order book for the latest 9-5 range is now open with customer deliveries commencing in Autumn 2011. The all-turbo powertrain line-up, with a choice of two diesel and three petrol engines, provides a power bandwith from 160 hp to 300 hp.

On-the-road prices range from £26,995 to £39,195, the SportWagon adding five-door versatility at a price premium of just £1,200 over the Saloon.

Sporty new-comer goes on sale

After making its world premiere at this year's Geneva Motor Show, the New 9-5 SportWagon now takes Saab back into the mid-size, premium wagon segment, where the brand enjoyed great success with its popular predecessor.

Designed in parallel with its Saloon counterpart, the SportWagon shares the same bold frontal styling and adds a dramatic, 'wraparound' rear window graphic under a sweeping roof line which is extended by a deep rear spoiler. Imposing looks and a low slung stance give the car a dynamic visual appeal that concedes nothing to the requirements of load carrying practicality.

The deep cargo deck is optimised for space and ease-of-use. The 60/40 split rear seatbacks fold down almost completely flat without having to move the seat squab or remove the head restraints. Careful attention to soundproofing in the rear bodywork attenuates noise, vibration and resonance so that rear occupants enjoy a level of interior refinement similar to that of the saloon.

With the seatbacks lowered, the cargo deck is over six feet long and offers an adaptable load capacity of up to 1,600 litres, or 527 litres with the rear seats up. The side walls are completely flat and upright, creating a clean, open space without any hard-to-use corners or rear wheel arch intrusions. Compartments in the side walls and under the floor offer convenient stowage for small items.

Aluminium roof rails, an adaptable U-rail cargo management system, a retractable cargo cover and a 12-volt power outlet all come as standard. For additional convenience, the tailgate is also available with a remotely controlled, electric power operation.

Reduced CO2 emissions, improved fuel consumption

A series of fine-tuning measures have improved the efficiency of all 9-5 engines, delivering an average CO2 reduction and fuel consumption improvement of 4.7%.

To encourage economical driving, a gear shift indicator is now fitted as standard in the main instrument display for all manual transmission variants.

With projected CO2 emissions of just 125g/km (Saloon) and 128g/km (SportWagon), the 160 hp, 2.0-litre TiD engine with manual transmission now delivers outstanding efficiency. They qualify for zero-rated excise duty and benefit-in-kind company car taxation of only 18 percent.

In combination with manual transmission, this engine features Start/Stop functionality as standard. It automatically stops running when neutral is selected and the clutch is released, and restarts when the clutch pedal is pressed to engage gear.

Dynamic drive

The standard chassis for Vector SE models now features improved ride and handling qualities following a development programme by Saab test drivers across challenging UK road conditions. The suspension adopts revised front spring rates, damper settings and bushings.

The Aero chassis has also been upgraded with the fully adaptive DriveSense function, featuring real-time damping control and variable effort hydraulic power steering, now fitted as standard. Advanced HiPer strut, independent steering axis, front suspension and multi-link H-arm rear suspension also becomes standard for all Aero variants.

Saab XWD, the industry-leading all-wheel-drive system, now includes an electronic, limited-slip differential (eLSD) as standard on Aero XWD models.

Enhanced value

Improvements for Model Year 2012 also extend to the 9-5's cabin with generous equipment levels and new cabin décor trims.

All variants are now fitted as standard with a DAB digital radio and satellite navigation, featuring an 8-inch touchscreen and hard disc storage for map data. Vector SE models also gain a multi-colour main instrument display.

Cabin ambience is further improved with the introduction of new dashboard fascia decor. Vector SE interior features a 'brushed metal' look for the main instrument panel, which is complemented by a 'black pearl' finish for the centre console and door trims. Aero models are distinguished by a 'mesh metal' effect for the instrument panel and door trims, while featuring a 'black pearl' centre console finish.

To improve rearward vision when parking, a rear view camera is offered as an option. It is mounted above the rear number plate and an image is shown on the 8-inch colour screen in the main instrument panel.

A state-of-the-art Adaptive Cruise Control (ACC) function is also available in combination with automatic transmission and a Head-Up Display (HUD). It offers more relaxing and less stressful driving, particularly in slow-moving, congested traffic conditions.

ACC uses a radar system mounted behind the front grille then automatically adjusts the selected speed to maintain a safe gap to the vehicle on the road ahead. Full distance control is provided from 112 mph (where legally permitted) down to a standstill. Should the vehicle in front come to a complete stop, ACC is re-engaged by a short push on accelerator pedal. A Following Distance Indicator (FDI) showsthe distance to the vehicle in front, and Forward Collision Alert (FCA) provides a warning in the main information display and the HUD if the vehicle ahead is too close.