Healthy hydration at the touch of a button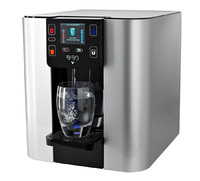 A new counter top hot and cold water dispenser has been launched to provide a cleaner, smarter and faster source of water in the home. The BIBO provides filtered water and then dispenses it both hot and cold at thetouch of a button, giving instant access to pure, clean water.
'The importance of drinking water for mental and physical health is well-established but research shows that the majority of people still do not drink the recommended two litres of water each day,' says Jonathan Brown, CEO of BIBO Ltd. 'This could be because of inconvenience, worry about chemicals in untreated tap water or awareness of the damage to the environment that plastic bottles cause. The BIBO gives people easy access at home to thoroughly filtered water without having to re-design their kitchen to fit a filter tap or buy endless plastic bottles.'
The water is filtered several times to ensure purity and taste. The filtration firstly removes chlorine to give the water a clean taste. This is similar to most BRITA-style filter jugs. The BIBO further filters the water to remove traces of heavy metals, pesticides and other chemicals before a powerful UV filter makes sure the water is free of any bacteria. The water is then chilled or boiled ready to be dispensed at the touch of a button.
The BIBO water filter simply connects to the home water supply. The BIBO provides 7 litres (approximately 30 cups) of chilled water and 15 litres (approximately 60 cups) of hot water each hour and only takes up slightly more room than a standard kettle. It has been designed to fit under kitchen wall units and its dimensions are 32.5cm high, 30cm wide and 35cm deep. The BIBO comes in a range of eight colours to fit in with all kitchens.
'People are more aware today than ever before of the importance of drinking water for their health,' says Brown. 'For just a few pence each day the BIBO water filter gives them confidence in the water they consume at home, whether for making tea or coffee, cooking pasta, boiling vegetables or having a cool drink. It removes the need to store a separate water jug in the fridge or buy lots of plastic bottles of water. As a result we hope that the BIBO will soon be considered an essential element of the UK kitchen.'
The BIBO home water dispenser can be purchased for £363 from bibowater.co.uk . This includes installation, comprehensive one year warranty and two filters. Customers will be contacted within 24 hours of purchase to arrange free installation by a BIBO technician.