Ford Focus Global Test Drive - £25,000 for four charities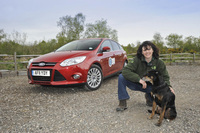 Four charities have received over £25,000 from Ford in recognition of their supporters' participation in the all-new Ford Focus Global Test Drive.

The four UK participants ended the test drive event with a six-week Ford Focus loan after being among the first globally to drive the new model in Spain earlier this year.

They had been recruited online and encouraged to cover the test drives using social media as part of the global launch of the all-new Ford Focus, which will go on sale in 120 countries round the world.

The charity-minded volunteers' favourite causes have now each received £6,450. The donations went to Action Against Hunger, Lively Minds, the Tea Leaf Trust and Daktari Bush School.

Denise Bird, a Forestry Commission employee from Kent who supports Daktari Bush School, said: "To enjoy such a unique experience, while also raising money for the bush school and wildlife orphanage which I am very fond of, isn't something that happens everyday. The chance to drive the new Ford Focus all over the UK was a once in a lifetime chance I won't be forgetting it in a hurry."

Before receiving their test cars in the UK, the participants gathered at the National Institute for Aerospace Technology in Madrid, which offered multiple road surfaces and challenges to put the all-new Ford Focus through its paces with coaching by racing drivers Justin Bell and Tanner Foust

The Global Test Drive provided Ford with early real-world feedback from drivers worldwide while supporting causes introduced to the company by the programme's participants. More at facebook.com/fordfocus.