Time running out to buy an affordable home in Oldham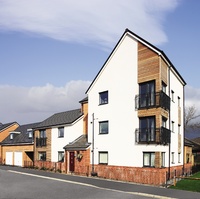 First time buyers should act now if they want to save almost a third off the initial price of a brand new home in Chadderton.
The Government-backed HomeBuy Direct scheme is still available at Redrow's Spinners Mews development. But with fewer than 10 apartments yet to be sold, potential purchasers could soon find they've left it too late to take advantage of the valuable help.
Prices at Spinners Mews start from as little as £70,000, which is reduced to just £49,000 with the help of HomeBuy Direct.
Lesley Myers, sales manager for Redrow Homes (Lancashire), explained: "For many people the need to raise a large cash deposit is the biggest barrier to homeownership, but HomeBuy Direct reduces the amount of money buyers need to put down up front to secure a home of their own. For example savings of around £2,500 plus a mortgage for 70% of the property's value could be enough to purchase an apartment at Spinners Mews."
The balance comes in the shape of an equity loan jointly funded by Redrow and the government. Crucially the loan is interest free for the first five years and can be repaid when the customer has more funds available or when they come to resell.
"HomeBuy Direct is designed to help those who would otherwise be priced out of the property ladder and could be the difference between a lifetime of renting with nothing to show for your hard earned cash and owning a home of your own," Lesley added.
"Many of our customers have been pleasantly surprised to discover that their mortgage repayments are actually less than the rent they would pay for a similar property. At such affordable prices we expect to see a strong interest in the final apartments and would urge potential purchasers to act fast to avoid disappointment."
HomeBuy Direct is open to first time buyers and potentially growing families in need of extra space or someone who is starting out after a change of circumstances such as divorce.
To be eligible for the help, customers must have an annual household income of less than £60,000.
"Buying a home can seem daunting, particularly if it's your first but our friendly, experienced sales team are here to help. They will guide customers through the home buying process, making it as simple and straight forward as possible. To help purchasers understand how HomeBuy Direct works we've produced an easy to follow video guide to the scheme that can be viewed via our broadband television channel Redrow.TV," Lesley said.
To be in with a chance of purchasing one of the final apartments at Spinners Mews, visit the sales office in Fields New Road, open Thursday to Monday from 10am to 5.30pm.