Family photography adventures give kids focus this October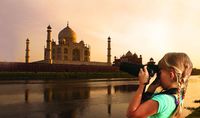 Children are being given the opportunity to delve deeper into the world of photography this October half term with two new family holidays in India and Morocco.
While the famous photographer David Bailey once said "it takes a lot of imagination to be a good photographer", these two new trips from The Adventure Company will provide ideal conditions for the whole family's imaginations to run wild. Whether exploring exotic temples or soaking up colourful souks, travelling outside traditional high season ensures minimal crowds while weather conditions will also be ideal to capture the moment.
As the UK's leading family adventure specialist, The Adventure Company introduced the concept of family photography holidays in spring this year with its summer Safari & Spice - Young Photographer trip to Tanzania. This departs 20 August with prices from £2649 adult / £2489 child including flights.
Prices for the new October trips, which combine all the excitement of traditional family adventures with photography and are open to children aged five upwards, start from just £899pp including flights, accommodation and tuition.
Speaking of the new concept Claire Wilson, mum and MD of The Adventure Company, explains: "Most children own a camera these days, whether it's disposable, digital or simply on their phone. With so much technology at their fingertips, it's little wonder that they become fascinated with taking photos from such a young age. However, despite their best intentions, young and older travellers consistently return disappointed in the quality of their snapshots after a great holiday."
Designed to encourage holidaymakers to return more trigger happy, both trips will be accompanied by professional photographers selected for their laid-back approach who remain on hand throughout to provide ongoing advice. During the 8-day trips families will enjoy a series of camera-based challenges, from taking portrait shots and photographing moving targets to black and white imagery, all of which follow the GCSE/Key Stage 4 Curriculum*. The groups then gather together at the end of each day to review their final photographs and receive individual feedback before discussing the next day's focus.
Families will also receive a free 50 page photo book of their favourite work at the end of the trip to ensure they can be proud of the progress made over the holiday and return home cherishing their new masterpieces.
INDIA: India Insights Young Photographer Minimum age 7yrs
- From the Taj Mahal to the wildlife of Ranthambore National Park, India is a feast for the senses. The 8-day trip, accompanied by photographer Andrew Newey, starts in the bustling centre of Old Delhi surrounded by mosques, temples and market stalls. Families go on to explore the contrasting world of New Delhi, with its wide boulevards and imposing buildings. Photographic highlights on this trip will include the rose-coloured walls of Fatehpur Sikri (the 'City of Victory') outside Agra plus Ranthambore, one of the country's top national parks, with a host of wild residents to snap including crocodiles, sambar deer, monkeys and, potentially, the endangered Bengal tiger.
- PRICE: £1319 adult / £1239 child including flights, 6 nights B&B hotel accommodation, transport (minibus, train, 4WD & auto-rickshaw), some meals (1 lunch & 2 dinners), expert photography tuition and an experienced local group leader.
- DEPARTURE: 23 October

MOROCCO: Kids in the Kasbah Family Photography Holiday Minimum age 5yrs
- Morocco's diverse scenery provides the perfect backdrop for budding photographers. From the towering Atlas Mountains and its palm tree oasis, the Argan forest (where goats can be spotted climbing trees), to the ancient Berbers living in the foothills of the mountains and the wide sandy beaches of Agadir, the country is the perfect canvas for young creatives.
- The 8-day tour, accompanies by photographer Sam Oakes, starts with the vibrant alleyways, souks and markets of Marrakech before heading west to the beaches of Essaouira. An old Portuguese port once used as a lair by pirates who would steal the treasures of passing ships on the main trade route to Western Europe, the maze of streets in this preserved walled town are now a treasure-trove of hidden corners ready to capture on camera.
- PRICE: £899 adult / child including flights, 7 nights B&B accommodation, transport (minibus & camel), 1 lunch, expert photography tuition and an experienced local group leader.
- DEPARTURE: 23 October
Wilson concluded: "Our family adventures are designed to keep enquiring minds entertained as well as challenged, so photography holidays are a natural development for us. We are confident that the combination of wildlife, culture and activity will provide a fun learning environment in which to encourage children to develop their creative confidence while ensuring families enjoy a wonderful, memorable holiday together."
To find out more about The Adventure Company's family photography trips visit: adventurecompany.co.uk/photography
* As part of Key Stage 1-4 ARTS (KS1-4) photography now forms part of the national curriculum. KS1-2 is children aged 5-11 with a focus on becoming familiar with the process of taking pictures and thinking about the results while KS3-4 aged 11-16 (GCSE) focuses on portraiture with ethical and responsible considerations