Adrian's Yamaha Super Ténéré Odyssey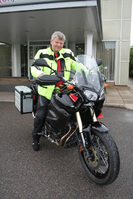 Broadcaster Adrian Chiles recently tried Yamaha's XT1200Z Super Ténéré. It's fair to say that he was pleased with what he found!

"I'm not a bike buff as such, so can't embellish anything I say about the Super Ten with any technical stuff, but I knew as soon as I clambered aboard that I was in the presence of something twice as magnificent as anything I'd clambered on before. As I pulled on to the dual carriageway for the first time I experienced the strongest urge to proceed in the direction of, say, Athens, possibly off-road. Regrettably, the only odyssey I could manage on it was the very short haul up the A3 from Weybridge to West London. The following morning though I could barely wait for my 3.45am alarm call so I could be King of the Road all the way from Chiswick, where I live, to ITV Studios on the South Bank where we broadcast Daybreak from. I arrived at the 4.30am meeting with a happy flush glowing on my cheeks. "Blimey, you look happy," said one of my colleagues, "have you been having sex or something?" "No, better than that," I said, "come down to the car park later and I'll show you..."

Adrian's experience is quite typical of the feeling that customers have about the 1200cc parallel twin Yamaha, and for those that think that they would like to share in that emotion, have a look at the Yamaha website for the location of your nearest demonstrator. Your will never look back!