Caterham Cars enters Formula One with Team Lotus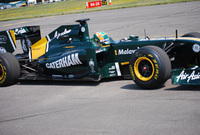 British sportscar maker Caterham Cars will enter Formula One at its home Grand Prix at Silverstone this weekend (July 9/10), when its name will appear on the F1 cars of new partner Team Lotus.

The move, which elevates Caterham into the pinnacle of world motorsport and provides a global springboard for its cars to be marketed in new and previously unreachable territories, comes 50 years after Innes Ireland gave Team Lotus its first Formula One victory in the United States Grand Prix.

Following its purchase by a holding company, part-owned by Malaysian entrepreneur Tony Fernandes in April, Caterham will be emblazoned proudly on the sidepods of the two Team Lotus F1 cars, driven by Heikki Kovalainen and Jarno Trulli.

Caterham Cars was founded in the 1960s by Graham Nearn to act as a dealership for the Lotus Seven designed by Colin Chapman, who himself went into F1 in 1954.

Caterham acquired the rights to build the Seven in 1973. Over the years the Seven has evolved into the supercar that it is today and the Caterham brand has developed as an iconic independent brand in its own right.

Caterham Cars managing director, Ansar Ali, said: "This is a monumental occasion for Caterham Cars. We are a niche low-volume sportscar manufacturer and yet we are now a key partner for a Formula One team with an extremely bright future.

"The purchase of Caterham signalled an exciting new era for the company in terms of the continued development of the legendary Seven.

"But in terms of global visibility for the Caterham brand, you don't get much better than Formula One. Caterham has a long and distinguished history in grassroots motorsport but this puts the firm in front of a truly global audience to sit alongside major car brands including Ferrari, McLaren and Mercedes Benz."

The purchase of Caterham has already seen a rebranding of the Caterham Team AirAsia GP2 team which is currently enjoying a stellar first season in GP2. Caterham Team AirAsia shares the Team Lotus facilities in Hingham, UK and provides an excellent stepping stone for drivers, engineers, mechanics and all support staff to move into the top echelons of global motorsport.

As custodians of Chapman's two-seater Seven since 1973, Caterham has been responsible for the evolution of a car originally conceived as a 'fit for purpose' race-car for the road in 1957.

Caterham has nurtured the Seven design and made it a staple of the UK domestic racing scene, running a 'motorsport ladder' featuring six one-make championships, including the Academy, which has created around 850 new and aspiring racing drivers since its inception in 1995. Similar Academy programmes have also been rolled out in France, Netherlands, Czech Republic and Portugal.

Earlier this year, Caterham launched its first new model for 15 years – the stunning sports prototype racing car, the SP/300.R.