Celebrate 100 years of Machu Picchu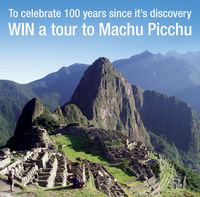 To celebrate the approaching centenary of the 'rediscovery' of Machu Picchu, and the approach of its own quarter century celebrations, Tucan Travel is giving away a tour of Peru that includes a visit to this timeless ruin.

On 24 July American historian Hiram Bingham, reportedly on the hunt for a different ruin, was led up the steep slopes of Machu Picchu by a young local Quechua lad, to become the first outsider to witness the inspiring and mystical ruins of the Incas that time had forgotten.

In March 1987, two equally intrepid explorers first took other young travellers to marvel at the wonder of this Lost Inca City and Tucan Travel was born.

For details about the competition and to enter visit: tucantravel.com

Winners will be drawn on 15 August.