Ford Galaxys fit the bill for Sussex Police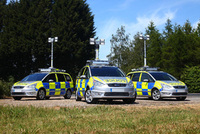 Three extensively modified versions of the latest model Ford Galaxy have gone into service with Sussex Police's Forensic Collision Investigation and Reconstruction Unit. The conversions were carried out by Ford's Special Vehicle Preparations (SVP) team.

The extreme demands placed on its crash investigation vehicles have led the force to order its third generation of Ford Galaxy in 13 years. But this time it's combining the high performance and stability with fuel savings - by switching to diesel. The vehicles can attend a scene for up to eight hours with engines constantly running to power various systems, so fuel efficiency is an important consideration.

The comprehensive specification includes 3m telescopic roof-mounted masts carrying powerful 28,000-lumen lighting for night-time operation. In addition, the vehicles are required to carry cameras, videos, trolley jacks, toolkits, measuring and surveying gear, tripods, crew clothing and other equipment. Working closely with Sussex Police Technical Engineer Neil Neve, SVP installed a bespoke racking and storage system, police livery and public-warning equipment.

"Visually the new vehicles have a greater presence on the road, which is a plus in terms of public awareness but also for the safety of the officers using them," said Senior Collision Investigator Sergeant Colin O'Neill. "They are well-appointed, and everyone is very pleased with them in terms of stability and performance," he said.

"It has proved the best vehicle in terms of gross vehicle weight, performance when fully loaded, road-holding and capability in performing the tasks required of it," said Sussex Police Fleet Manager Dennis Ord.

The vehicles will be used for five years, covering more than 125,000 miles. The 163PS Ford Galaxy Titanium is powered by a 2.0 Duratorq TDCi engine with six-speed manual transmission and returns 49.6mpg combined, accelerates from 0-60mph in 9.5sec and has CO2 emissions of 152g/km.