42ft day boat added to Nick Whale Marine charter fleet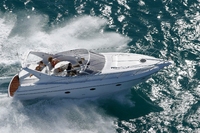 With the 2011 summer season proving to be a strong one for yacht charter bookings, Nick Whale Marine has made the move to purchase an additional boat for its Balearic-based portfolio. The Sessa Oyster 42 will help meet considerable demand for a sporty day cruiser which offers unbeatable value from just 1,050 euros a day for up to eight people – and the champagne's on Nick Whale Marine.
David Fawcitt, for Nick Whale Marine, explains, "As we get deeper into summer, the number of last minute enquiries for well-priced day charter is soaring. By adding the Sessa Oyster 42 we're able to offer bareboat charter for up to eight people or package together skippered charter for up to seven people where our commercially licensed skippers can impart their local knowledge on Mallorca's best bays, beaches and waterfront restaurants. We're even throwing in a free bottle of champagne to kick-start the fun."
Although it has two comfortable en-suite cabins, the Sessa Oyster 42 is small enough to be easily manoeuvrable amongst the shallow turquoise waters of the many calas and coves which make Mallorca such a stunning place to holiday. With the skippered charter option, clients don't have to worry about watching the alcohol intake, the state of the sea or indeed having the right licenses for Spanish waters.
Over the shoulder and winter season, Nick Whale Marine's Sessa Oyster 42 will fill the role as a training boat for the various RYA Training courses on offer with the Company such as the ICC (International Certificate of Competence) and Day Skipper. A great size for tuition, the Italian-built sports cruiser will be turning novices into confident captains ready for what already promises to be another busy charter season in 2012.
To discuss prices and terms and conditions for charter contact Nick Whale Marine on tel 00 34 971 676 540, email info@nickwhalemarine.com or visit nickwhalemarine.com.