Hannspree Hannsjoy LCD TV breaks the TV mold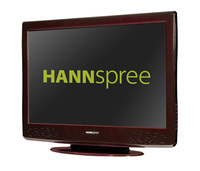 Consumer electronics manufacturer and AV specialist, Hannspree, has unveiled its new series of mold breaking TVs. Celebrating its reputation for producing cutting-edge boutique products which have a strikingly unique identity, the new HANNSjoy LCD TV from Hannspree delivers technology at the heart of extraordinary design in truly opulent style.
Bored of the standard black or grey TV box? Want to make a colourful design statement? The new HANNSjoy TV is available in 2 individualistic colours. The HANNSjoy red is elegant and understated whilst the HANNSjoy white is bold and striking. Both have a curvy exterior with a high gloss finish and sit upon a rugged yet stylish base. Alternatively the HANNSjoy can we wall mounted.
The HANNSjoy TV features a 28" Full HD 1080P display and a built-in digital tuner ready to receive Freeview broadcasts. Adorning the HANNSjoy TV, but not blemishing the seamless design, is a number of inputs to support a multitude of add-ons including 2 x HDMI ports to host state of the art HDMI equipped devices such as BluRay players, HD cameras and games consoles.
Hannspree has taken the dull television box and given it a design overhaul to take fashion conscious living to the next level, transforming what can only be described as the 'safe' design into an attention grabbing centre piece for the truly avant-garde home. 'Hannspree is leading a design-centric revolution that establishes an entirely new class of customised consumer electronics products. '
Hannspree's HANNSjoy TV is available now from eu-shop.hannspree.com and from Hannspree's concept store, Westfield, London for £199.00 Inc. VAT. A 2yr collect and return warranty is included as standard.