Rock climbing short breaks in the French Alps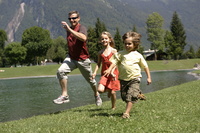 Alpine retreat Ferme du Ciel offers rock climbing short break adventures designed for active parents and their kids to enjoy time together in the French Alps.

Whisk the family away for an action-packed weekend of rock climbing adventure in the French Alps with a package that's designed especially sporty families. Ferme du Ciel is a luxurious family retreat located in Samoëns, France; less than an hour from Geneva airport yet at the heart of some of the most exciting sporting action to be found in the French Alps. This year they're offering a special short break package for active families to indulge in a range of exhilarating outdoor activities together, with plenty of support and all the details looked after so the weekend is stress free for everyone. The package is available all summer 2011 and includes a family rock climbing lesson with an expert climber and a day of high ropes training in the forest for the whole family, plus a professional massage as a treat for Mum and Dad.

Ferme du Ciel appreciates that families with young children need plenty of support, and so they've thought through all the details on your behalf. From car seats to child-friendly meals, the friendly staff are ready and waiting to help out wherever possible, making it an ideal escape for time-pressed parents looking for a wholesome outdoor adventure with their kids. They'll collect you from the airport and shuttle you to and from any activities or attractions you'd like to try in the area. The chalet's facilities are superb with a full entertainment suite, Jacuzzi, sauna, luxurious ensuite bedrooms and even an office for guest use, in case there's work to do during your visit.

What's included:

- Five-star B&B accommodation + breakfasts
- 'Make your own pizza' evening in the chalet's traditional bread oven (kids love it!)
- Family rock climbing lesson
- Family high ropes course
- Arrangement of your choice of other outdoor activities (including all transport)
- A professional massage for Mum & Dad
- 3 nights £1750 for a family of 4, or £475pp (prices valid all summer 2011)

Winter or summer, Samoëns is sparkling with activity yet this authentic and picturesque area remains relatively undiscovered. Ferme du Ciel, a 350-year-old Savoyard barn renovated to the highest quality, makes an ideal base from which to explore the area and try out some of the adventure sports run by specialists in Samoëns and the surrounding area. Just an hour's drive from Geneva airport, Ferme du Ciel is easily accessible for a hassle-free short break.

Clean air, wide open spaces and the freshest French food and will appeal to families who wants to head for the hills and escape the crowds. Whichever sport is your calling, staff at Ferme du Ciel make all the arrangements including travel to and from venues (plus, transfers to and from Geneva airport are free). Adventurous families can enjoy activities including paragliding, canyoning, hiking and mountain biking, along with more chilled-out past times such as practicing golf into the lake, waterslides at the local pool, donkey trekking, archery and more.

For more information, visit: fermeduciel.com

Prices valid until October 31st, 2011.