Caterham Cars enters Chinese market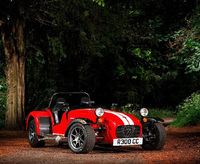 Caterham's legendary Seven will be sold in China for the first time after Caterham Cars signed an exclusive deal with new importer, Courtenay Trading International (CTI).

CTI is looking to appoint six retailers in key provinces of China over the next year and is targeting initial sales of between 30 and 50 Sevens in its first year of operation.

All of Caterham's current EU5-compliant cars will be sold – Roadsport 120, Superlight 120, Roadsport 175, Superlight R300 and CSR 175 – with the first Sevens scheduled to arrive in China in January 2012.

Although Caterham has had a long-standing presence in the Far East, notably in Japan, this will be the first time the iconic Seven has been sold in China and represents Caterham's continuing expansion into new growth markets.

Caterham Cars' International Business Manager, David Ridley, said: "We are engaged in one of the most exciting new chapters in the Caterham Cars story and our entry into the Chinese market is another tangible sign of how Caterham is striving to become a truly global brand."

The relationship with CTI could also offer Caterham a platform from which to launch new models such as its stunning sports prototype launched in January this year, the Caterham-Lola SP/300.R.

Caterham will also seek to further expand internationally the successful motorsport 'ladder' model that has made the Seven one of the most raced cars in Europe.

Alongside its new partnership and as a sponsor of the Team Lotus Formula One team, Caterham's global motorsport outreach will mirror that of F1, which continues to break new ground in emerging Asian markets, with Singapore and Korea recently joining China and Japan on the F1 calendar.

For more information, visit caterham.co.uk.