Dive and dine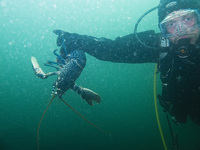 As the fine summer weather finally arrives, thoughts of holidays and getting away for a short break are in the fore-front of our minds. Brighton remains a popular destination with it's plethora of bohemian shops, the ostentatious landmark Royal Pavilion and a diverse selection of night life.
Now there is yet another experience to allure you...something not particularly synonymous with visits to this vibrant South Coast town but will indulge your desire for adventure whilst enjoying a chic getaway at drakes, Brighton's most loved and glamorous Boutique Hotel.
Guests staying at drakes are now able to enjoy a dive beneath Brighton Pier. Pack your wet suit and don your fins for this astounding adventure. The range of sea life in the unexpected location astonishes, with acres of mussels, giant starfish, cuttlefish, crab and lobster. As the water warms throughout the summer, sea bass, prawns and flatfish of various sorts are in abundance...all available for the taking.
But your experience does not end there....
Upon returning to the hotel after your dive, bring your catch to our Head Chef (himself a keen diver) to be prepared, cooked and served with accompaniments for your dinner in the relaxed atmosphere of our 2 AA Rosette "restaurant at drakes". With a mood of laid back glamour, fabulous service and an unsurpassed reputation for quality, what more satisfying way to celebrate the achievements of your day.
Dives are conducted by qualified PADI Dive Masters from the Brighton Dive Centre. Divers themselves must hold at least PADI Open Water.
Cost of the dive is £20.00 per person, which is payable to The Dive Centre. If any equipment is required, the hire charge will be at their discounted rate. Cancellations are possible due to adverse weather and sea conditions. However, no cancellation charges will be incurred.
Cover charge for preparing, cooking the catch and providing accompaniments £25.00 per person.
For more information, visit drakesofbrighton.com.