Spot more than just the Big Five with Makanyane Safari Lodge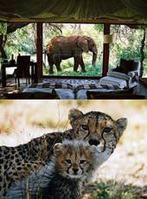 The famous Big Five, lion, leopard, elephant, black and white rhino and buffalo can all be found in abundance in the Madikwe Game Reserve, South Africa, which is also home to the luxurious Makanyane Safari Lodge.
Safari-goers looking for much more out of a game drive can also expect to see cheetah, spotted and brown hyena, giraffe, zebra and the extremely rare African wild dog, which in the Tswana language translates to Makanyane. You'll also find a variety of reptiles roaming the reserve, including chameleons, leopard tortoise, snakes and African crocodiles. And dedicated twitchers will be in birdie-heaven, with over 340 species of birds found here.
The malaria-free Madikwe Game Reserve is South Africa's second largest, and Makanyane Safari Lodge is situated amongst 1,800 hectares of private ground, with no boundaries within the reserve. In 1991, over 10,000 animals from 27 species were reintroduced to the area over the course of seven years, known as operation Phoenix, the largest translocation of game ever undertaken. Today, the conservation initiative is still a priority for Madikwe, and the variety of species roaming the reserve continues to provide visitors with unforgettable game-spotting experiences and memories.
Guests at Makanyane Safari Lodge, which recently hosted Michelle Obama and her family, experience two game drives in an open 4-wheel drive vehicle, spotlight game drives at night, as well as game walks accompanied by an experienced ranger. On these, you can expect to spot waterbuck, a species commonly found in moist, densely vegetated areas, alongside gemsbok which is typically found in desert areas. Herds of buffalo make regular appearances, while zebras graze and cheetahs observe.
In the skies above, birdies can spot birds of all sizes, from the large Kori Bustard to the tiny Pearlspotted Owl. Visitors are also treated to an array of colourful species such as the Woodlands Kingfisher, which is known for its striking blue feathers. The African Finfoot and the Whitefaced duck can often be seen on the river flowing past Makanyane Safari Lodge, while after dark there's the opportunity to see rare nocturnal animals, like the brown hyena or aardvark.
Garth Kew, General Manager of Makanyane Safari Lodge says: "The popular Big Five are on everybody's safari hit-list, but a game drive with us in the Madikwe Game Reserve will reveal so much more. The unique location of the Madikwe Game Reserve makes it the ideal place to spot a variety of species you wouldn't normally see in the same area together, such as gemsbok and waterbuck.
"The blend of wet and desert regions means you'll also find both impala and springbok here. The thin vegetation and low grass at this time of year means that you stand a much better chance of spotting certain species like the unusual aardwolf and rare pangolin, both of which are usually very high on the experienced safari enthusiast's must-see list."
Makanyane Safari Lodge's eight lavish suites, all with large glass walls offering panoramic views of the game reserve and private sundecks off each suite, blends effortlessly into the surroundings of the riverside forest. Guests can relax away the day watching the variety of wildlife in their natural habitat and enjoy the sights and sounds of the African bush.
Prices at Makanyane Safari Lodge start from ZAR 5,600 per person per day, (approximately £535 per person). Price includes luxury accommodation in a thatched suite, breakfast, lunch and dinner, teas, coffee and cakes; house wine, beer and spirits, plus soft drinks and mineral water; two game drives in a open 4-wheel drive vehicle, spotlight game drives at night, game walks accompanied by an experienced ranger, a visit to the exclusive sleep out hide and transfers from the air strip in Madikwe Game Reserve.
For more information about Makanyane Safari Lodge and to book, visit makanyane.com.