Ford Fiesta "Centura" celebrates 100 years of success in Britain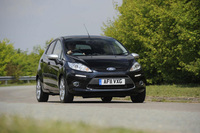 Britain's best-selling small car, the Ford Fiesta, continues to expand its appeal with the launch of an exciting new special edition, the "Centura", which builds on the most popular model and engine choice in the UK.

The Centura celebrates the 100th anniversary of Ford in Britain, and, available exclusively in black, it pays tribute to the first Ford vehicles to be manufactured in the UK, the Model T in 1911.

Based on the Ford Fiesta Zetec, the Centura boasts a comprehensive list of additional standard equipment valued at £600, including metallic Panther Black paint, chrome mirror and door caps, LED daylight running lights, 16-inch seven-spoke alloy wheels, automatic headlamps and windscreen wipers, reverse parking sensors and a parking camera mounted in the rear view mirror.

Just 1,000 Ford Fiesta Centura special editions will be available, priced at £13,395 for the three-door version and £13,995 for the five-door. The Ford Fiesta remains the UK's best-selling car with 52,327 sold in the first half of this year.

Anthony Ireson, marketing director, Ford of Britain, said: "Fiesta has been a UK favourite its entire lifetime and it was a natural choice to use this great icon to help mark our centenary. With a unique specification and affordable price, the Centura will appeal to thousands of customers, and we anticipate strong demand – who knows it might even become a collector's car one day!"

The Ford Fiesta Centura 1.25-litre 82PS petrol engine is exempt from vehicle excise duty in the first year.