Garonga eco safaris - not just "seen to be green"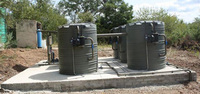 Garonga Safari Camp in the Limpopo Province of South Africa, near the Kruger National Park, is fast gaining a reputation as one of the most eco-friendly game lodges you will find in South Africa – or anywhere! This is not as a result of just trying to appear to be "green" - it is an overall philosophy that is in keeping with the "Safari for the Soul" which Garonga offers.
Owner, Bernie Smith, has invested heavily in alternative energies in the last 2 years in order to become more eco and environmentally friendly. Today, more than an impressive 40% of the power needed to operate Garonga Safari Camp, Little Garonga, and the staff village is generated by solar panels. New hot water pumps have replaced electric geysers in the luxury tents and a Bio-Digester converts waste food into a gas which is then used to power the Staff Kitchen.
A water treatment system has also been installed that cleans and filters all wastewater and pumps it via gravity down into the Dam/waterhole in front of the Camp to create a larger wetland for Animals and Waders.
Garonga also has its own veggie garden where it produces its own organic veggies and some fruits. This contributes about 30%, with the other 70% coming from local suppliers.
A new development is that no more plastic water bottles are now wasted at Garonga as they have introduced the unique "Vivreau Water System" whereby the Vivreau stopper bottles are filled with delicious water (Still and sparkling) via a reverse Osmosis system and the Vivreau water Filter System. The bottles themselves are glass and very attractive. Stainless steel bottles are also being produced with the Garonga logo which will be given to guests on arrival as a personalised gift to bereflled and taken out on game drives which can then be kept as mementos when they leave.

Guests can also contribute towards a carbon-offset programme by donating towards the work of the Nomad Trust, supported by Rhodes University and the department of Land and Water Affairs. Guests donate as much or as little as they want based on the figures given supplied by the trust e.g., just for their stay/carbon footprint at Garonga, or to include their domestic travel – or their whole trip. Once the trust has gathered enough money, they will plant 1 hectare of Spekbom trees in the Eastern Cape.
Garonga also employs staff from the local community and empowers them through training. Garonga is also a supporter of Help for Heroes in The UK – a cause which is very close to owner Bernie Smith's heart.
For more information, visit garonga.com.
Garonga can be booked through most African specialist tour operators, including:
Imagine Africa
From £1,778 per person including return Long-haul International flights with SAA from London to Johannesburg, return SA domestic flights with SAA from Johannesburg to Hoedspruit, airport transfers, 5 nights accommodation on a sharing basis, full-board meals, house drinks and game viewing activities.(based on travel before 30 Sep 2011 (subject to availability))
For more information, visit imagineafrica.co.uk