Plans approved for Whittingham Hospital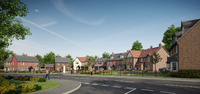 Taylor Wimpey North West and the Homes and Communities Agency (HCA) plans for the redevelopment of the former Whittingham Hospital in Preston have been given the go ahead after a Preston City Council committee voted unanimously in favour of the scheme.
The Reserved Matters application was approved following an extensive consultation exercise undertaken with local interest groups and the local community. The approval paves the way for the re-development of the now derelict former hospital site, which is entirely owned by the Homes and Communities Agency, to be brought forward for redevelopment by the HCA and partners Taylor Wimpey.
Gareth Owen, Taylor Wimpey North West's regional land and planning director, said: "Following extensive consultation with all the key stakeholders, we are delighted to have been given final approval for this scheme. We are very pleased with the unanimous support given by the City Council's planning officer's and committee members to our proposals, which will now enable this site to become a reality. We are now looking forward to commencing work on the site, which is expected to start in spring 2012."
The local community will, after years of uncertainty, be able to see the project deliver new and affordable housing to the area, along with the provision of much needed new modern, sustainable community facilities.
Taylor Wimpey and the HCA are committed to bringing this scheme forward now planning permission has been granted to deliver a new sustainable community, which in turn will contribute to wider infrastructure benefits for the area.
Deborah McLaughlin, executive director North West at the HCA, adds: "It is great news that the Whittingham Hospital scheme has been given the green light. I'm now looking forward to seeing work start on this important scheme that will bring new homes, improved community facilities, transport links, and open spaces to the area. "