New Ford technology provides Safestyle solution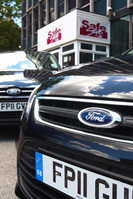 High-tech Ford Focus and Ford Mondeo diesel-engined models have been chosen for their green credentials by the leading independent double-glazing supplier Safestyle UK.

The Bradford-based company has taken delivery of 139 low-emission, fuel-efficient Ford cars for field sales staff as part of its 400-vehicle fleet.

Safestyle said the Ford Focus 1.6 TDCi Edge and Ford Mondeo 1.6 TDCi Edge reflected its environmentally responsible image and combined high quality with keenly competitive whole-life costs.

Having determined that the Ford cars would meet all Safestyle's requirements while also appealing to its drivers, the company contracted ERA Fleet Cost Management to review the marketplace for improved cost and service.

"The key driver was getting competitively priced contract-hire rentals," said Sean Bingham, ERA's Principal Consultant. "Safestyle had already decided it wanted Ford's new Auto-Start-Stop technology, not just for its improved fuel economy and reduced CO2 emissions, but because it believed Ford was the most appropriate manufacturer in terms of fit for its business."

The 115PS 1.6 TDCi Duratorq start/stop powertrain gives the Focus CO2 emissions levels of 109g/km, combined with fuel economy of 67.3mpg (combined cycle). For the Ford Mondeo Edge, as ordered by Safestyle, CO2 emissions are 114g/km and fuel economy 65.6mpg.

Safestyle's sales staff cover 40,000 miles a year, operating nationwide. The company previously opted for a variety of short-term leasing deals, so the Ford order marks a rationalisation of its operations.

Steve Lambert, Safestyle UK Fleet Transport Manager said: "Safestyle has opted for the new Ford range to give our drivers the best drive possible when out on business. These vehicles will also help our company with our ongoing campaign for CO2 and energy-consumption reduction."

ING Car Lease is supplying the new Ford cars on contract hire, with Ford Focus replacement due after 3.5 years and the higher-mileage Ford Mondeos running on three-year contracts.