Titan Travel launches Elegant River Cruises for 2012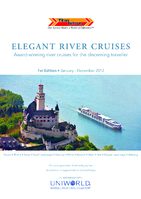 Titan Travel has unveiled its 2012 programme of award-winning river cruises for independent travellers with three brand new itineraries in a brochure that has a fresh, new pictorial style which illustrates more clearly the elegance of the cruise experiences available.
The programme is operated in partnership with Uniworld (the market-leading river cruise company) and offers a world class collection of upmarket cruise options on Uniworld's fleet of floating boutique-style hotels to some of the grandest and most scenic waterways of Europe, Russia, Egypt and Indochina.
In addition to the three brand new itineraries other new developments include an expanded choice of shore excursions in significant ports of call, plus the opportunity for passengers to 'Go Active' and discover their various destinations on foot or by bike.
As might be expected from an Elegant River Cruise, every itinerary features fabulously well-appointed river cruisers, offering comfortable staterooms, sumptuous cuisine and first-class entertainment. Along with a full programme of shore excursions and the services of knowledgeable, English-speaking guides, every passenger receives the VIP Home Departure Service, a door-to-door transfer service that takes them from their own home to join the start of their holiday wherever they live in the UK, including Northern Ireland, the Isle of Wight, Jersey, Guernsey and the Isle of Man. In addition, early-booking discounts are available on every single cruise, providing even better value for money for those customers reserving their holidays in good time.
The new brochure features a total of 30 luxurious river cruise options for independent travellers, including voyages on such fabled waterways as the Danube, Rhine and the mighty River Nile. The three new itineraries lead in with an 8-day discovery of the Gems of Germany, Belgium and the Netherlands. Beginning in Cologne, this journey aboard Uniworld's River Ambassador continues down the Rhine via Maastricht and Antwerp to the captivating city of Brussels. Highlights include the opportunity to visit the much-anticipated Floriade, a World Horticultural Expo that's famed as a once-a-decade floral extravaganza. Next year will see the sixth Floriade, when the Dutch city of Venlo will be swamped with exquisite plants and flowers. Those not wishing to take in the floral displays can opt instead for a walking tour of Venlo. Other points of interest include tasting tours of local breweries and a chocolate demonstration in Brussels. There are 11 possible departure dates between April and September 2012, with prices from £2,099 per person. Bookings made before 30th September 2011 receive a £200 per person early-booking discount, bringing the price down to £1,899 per person.
Brussels also features in the brochure's second brand new itinerary, the 17-day Grand Treasures of Europe, which begins in the Belgian capital and continues upriver through Holland, Germany and on to the Czech Republic. Stops along the way include the charming and atmospheric cities of Antwerp, Venlo (for the Floriade), Cologne and Nuremberg, with a two-night stay in Prague to complete the experience in style. En route, passengers will visit historic churches, Renaissance palaces, fairytale castles and two UNESCO World Heritage Sites, with plenty of chances to taste local wines and relax in tranquil gardens along the way. The holiday costs from £4,199 per person for departures between April and September 2012, on a choice of nine possible dates. Book before 30th September 2011 and receive a £500 per person early-booking discount, bringing the price down to £3,699 per person.

The third new itinerary takes passengers half-way around the world for a journey to uncover the Timeless Wonders of Vietnam, Cambodia & The Mekong. At nearly 5,000km in length, the Mekong is Indochina's longest river and is navigable only in its lower reaches as it flows along the border between Thailand and Laos and on downstream through Cambodia and Vietnam. These latter two countries share a chequered past yet are characterised by their beautiful scenery and fascinating cultures. The cruise takes in each of these countries' most distinctive attractions, starting with a visit to the Cu Chi Tunnels (the famous underground passageways used by the Viet Cong during the Vietnam War) and a chance to meet a wartime veteran. Other memories of a turbulent past can be found in Phnom Penh, the Cambodian capital, where the Tuol Sleng Genocide Museum commemorates the terrible atrocities that took place under the violent reign of the Khmer Rouge regime. On a lighter note, other highlights of the 17-day itinerary include visits to peaceful Buddhist monasteries, floating markets and ancient temple complexes, with the undisputed high point being a tour of Angkor Wat, the mysterious, jungle-shrouded temples that are today protected as a UNESCO World Heritage Site. Departures are available year-round on the all-new River Saigon with prices from £4,699 per person. Bookings made before 30th September 2011 receive a £500 per person early-booking discount, bringing the price down to £4,199 per person.
In addition to these new itineraries, the brochure features two other exciting new initiatives. The first is the introduction of 'The Choice is Yours', which allows passengers on the European river cruise itineraries to select between two included shore excursions in key destinations. For example, passengers stopping in Nuremberg can opt between exploring the city's medieval centre or discovering its connections with World War II. In Amsterdam, there's a choice of a full city-tour or a shorter excursion to the Van Gogh Museum; while in Arles, passengers can choose between visiting the iconic bridges or a selection of secret gardens. These choices render the cruise itineraries ideal for passengers with a special interest, or those who've visited a city before and want to experience another element of its appeal. Also new is 'Go Active', an initiative that gives guests the opportunity to discover the various ports of call under their own steam, either on two wheels or their own two feet. Passengers will find bicycles and Nordic walking sticks at their disposal and the on-board Cruise Manager will be able to provide maps, tips and directions to help the more actively-inclined to explore at their own pace.
Commenting on the launch of the new brochure, Dan Whitehouse, Marketing Director, said, "Our river cruises with Uniworld are elegant indeed, combining refined comforts and exceptional levels of service with the high quality and value for money that are synonymous with a Titan holiday. With an average capacity of only 130 passengers per ship, our river cruises never feel crowded - and with all kinds of added extras like state-of-the-art headsets, drinks with meals and even wireless internet being included in the price, passengers can relax in the knowledge that they've secured the most competitive price on the market for their holiday."
For details or to book, visit titantravel.co.uk/elegantrivercruises.