Christmas here again already - surely not!?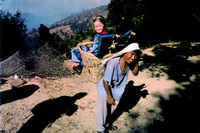 Is it too early to be planning Christmas holidays? Not at all! Now is the time to book before all the airline seats are taken, and hotel space becomes difficult.
Mountain Kingdoms Ltd is a specialist tour operator who started running adventurous treks and tours 25 years ago. They face the same problem every year – that economy seats to destinations like Kathmandu at Christmas time are in huge demand, and very often when people leave booking their Christmas holiday until the last minute seats are impossible to find.
The company has 14 Christmas departures to Nepal, Bhutan, Argentina, Thailand, Laos, Sri Lanka, Sikkim, and Cambodia. They range from family treks in the Annapurna foothills, gentle treks in Bhutan, tours in south east Asia through to strenuous treks such as Everest base camp.
Why not then ditch the endless rounds of visits to the in-laws, the over-indulgent consumption in front of the telly, yet one more repeat of 'Where Eagles Dare', and instead enjoy sunshine in the Himalayan foothills, or luxury lodges in Argentina, or hill tribe trekking in Laos, or the colonial atmosphere of staying at the famous Windamere Hotel in Darjeeling. Instead of putting pounds on why not choose a holiday to keep you fit. You might even be surprised at how little a long haul Christmas might cost – prices start from as little as £ 1,395 per person Land Only for a family trek in the Annapurna foothills, or a trek to the Cardamom Mountains in Cambodia
For further information, visit mountainkingdoms.com.