Yamaha helps Christmas come early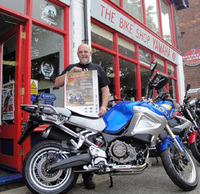 Mick Kemp, 43, has managed to bag himself first prize in Yamaha's 'Super Ténéré Test Ride To Adventure' demonstrator draw.

In October this year, Mick, a gas fitter from Whitstable in Kent, will turn adventurer and accompany world traveller and world record holder Nick Sanders in a ride from Algeciras in Spain, over the Atlas Mountains through to Marrakesh in Morocco, riding Yamaha's XT1200Z Super Ténéré.

'It's like Christmas come early' said a visibly thrilled Mick. 'I am very excited and I know that I will not get a wink of sleep on the night before I go.'

Mick was one of many riders to test ride Yamaha's XT1200Z during the Nationwide promotion and he experienced the bike at his local Yamaha dealer, The Bike Shop in Faversham, Kent, and he was lucky enough to have his name drawn first out of the hat when the competition ended.

To prove that once riders try this bike it makes a great impression, Mick's fate was set and he sold his XJR1300 and XT660Z Ténéré and bought the new 1200. Mick is a long time Yamaha fan. 'I love Yamahas! You can depend on their build quality and reliability and those electronics are really the best. I do a fair bit of Continental riding with my partner Kate so need the security of reliability on these trips and I have every confidence that the 1200 will take me wherever I want to go, without any danger of it letting me down. That's one of the reasons why I bought one. And if Nick can ride 53,000 miles in 3 months, that's good enough for me!'

As an extra surprise, The Bike Shop Faversham contacted clothing distributor Feridax who are going to kit him out in adventure riding gear and a Shoei helmet for the trip.

Mick will also be riding for his charity Emmaus (a European-wide charity), which is a charity for homeless people. Mick is a Trustee of the Dover branch.