It's official: Tailball is good for your health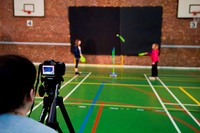 Playing Tailball, the new bat and ball game from Mookie Toys, for just a few days can help to increase a child's confidence in their sporting ability and improve their coordination, according to a new study by the Faculty of Health at Staffordshire University.
The findings were revealed after Mookie partnered with the academic body to undertake a cross-sectional study of 20 children to investigate whether the game's weighted ball and tail enables better flight, makes the game easier to play and consequently develops hand-to-eye co-ordination.
During the six week series of experiments, researchers at Staffordshire University explored the ball's trajectory properties and measured reaction time to identify the effect the game had on the children's sporting skills.
Nachiappan Chockalingam, Professor of Clinical Biomechanics at Staffordshire University, explains: "Tailball is such a unique product that we had no doubt that the project would produce some interesting findings, and we were right.
"Our research indicated that, in the children who participated, Tailball facilitated the acquisition of advanced coordination patterns in ballistic motor skills more than a conventional ball would and also increased the child's confidence in their playing ability."
Guy Orr, head of product development at Mookie Toys, adds: "Since its launch last year Tailball has proved increasingly popular, and we have been hearing reports from growing numbers of parents that the game is really helping to build their child's confidence in racket sports, thanks to its unique design.
"We therefore decided to invest in a professional study to explore to what extent Tailball really does help improve hand-to-eye coordination and confidence.
"We are delighted with the results of the study from the highly respected team at Staffordshire University and look forward to working with them again in the future to further enhance the health benefits Tailball can offer children."
Tailball offers a fresh new take on the traditional bat and ball game by featuring a unique 'tail' design. Although Tailball is aimed at children aged between four and 10, it also offers a great family game, which can be played in any outdoor space such as in the park, on holiday, whilst camping or in the garden.
For more information visit tailball.co.uk.